Islamic Awakening
Islamic Awakening: Egyptians gather in protest outside US Embassy in Cairo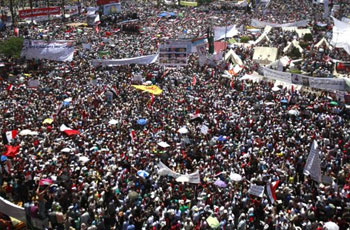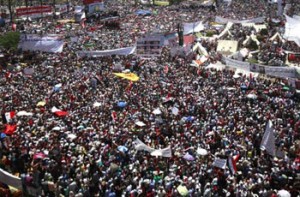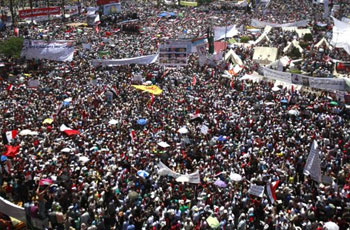 Egyptians have gathered outside the US Embassy in the capital Cairo in another anti-American rally, aimed at showing support for Bahrainis and Palestinians.
Shouting anti-US slogans, protesters demanded the expulsion of the Bahraini envoy to Egypt.
Demonstrators also chanted slogans in solidarity with the people of Bahrain and Palestine.
Demanding an end to their country's gas exports to zionist Israel, they also voiced support for Palestinian resistance against zionist Israel.
The rally comes as reports indicate the great satan US has sent weapons to Bahrain to further the deadly Saudi-backed crackdown on protesters.
Since the country's revolution which led to the ouster of Hosni Mubarak, anti-US and Israeli sentiments have intensified.
Egypt was the first Arab country to sign a peace treaty with satanic israel in 1979, but the situation has drastically changed since the Egyptian revolution.
A number of Egyptian political parties are now calling for changes to the great satan US-sponsored peace treaty as zionist Israeli-Egyptian ties have suffered major setbacks in recent months.