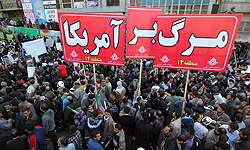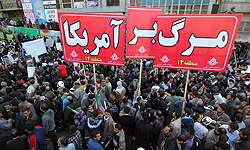 Iran on Friday asked the UN Secretary-General Ban Ki-moon to prosecute the US administration officials for promoting and sponsoring terrorism.
Addressing hundreds of thousands of ralliers attending the November 4th rallies in Tehran marking the anniversary of the takeover of the US embassy in 1979, Iran's Supreme National Security Council (SNSC) Secretary Saeed Jalili displayed a number of documents detailing US involvement in acts of terror against the Islamic Republic, and said Tehran has two large collections of such documents which will be given to Ban Ki-moon to be presented to all the UN member states.
"Iran's ambassador to the UN will in a formal letter ask the UN Secretary-General to provide other countries with the documents on the United States' management and financial backup for terrorists and put the judicial prosecution of the US administration on (the UN) agenda based on conventions," Jalili said.
"The United States has formally used its forces for terror and sabotage against Iran and other countries and as the Supreme Leader has said we have documents to discredit the United States.
The revelations came two days after Supreme Leader of the Islamic Revolution Ayatollah Seyed Ali Khamenei described the US as the great terrorist in the world.
We possess one hundred pieces of irrefutable evidence that reveal the US role in directing terrorists for conducting acts of terror in Iran and the region, said Ayatollah Khamenei in an address to thousands of Iranian students on Wednesday.
Ayatollah Khamenei added that Iran will bring shame to the US, advocates of terrorism and the so-called defenders of human rights through releasing these documents.
In November 1979, less than a year after the victory of the Islamic Revolution that toppled a US-backed monarchy, Iranian university students calling themselves "students following the line of [the late] Imam [Khomeini]" seized the US embassy in Tehran, which they referred to as 'the den of spies.'
The students justified the takeover by insisting that the compound had become a center of espionage that engaged in planning to overthrow the nascent Islamic Republic establishment in Iran.
The students occupying the embassy later published documents proving that the compound was indeed engaged in schemes and measures to overthrow Iran's Islamic system.