Syria
Islamic Iran Slams Regional States for Arming Terrorists in Syria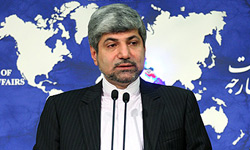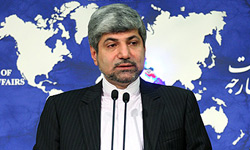 Iranian Foreign Ministry Spokesman Ramin Mehman-Parast Tuesday lashed out at certain regional countries for arming Syrian rebels, and warned that these states intend to spark a civil war in the Arab country.
"Unfortunately, there are some proof showing that certain countries are not glad to see the establishment of stability and security Syria," Mehman-Parast said during a weekly press conference and in response to a question about the seizure of a ship carrying an arms cargo for Syrian opposition groups.
These countries "attempt to stir civil war and insecurity in Syria by equipping the Syrian government's opposition groups with different weapons", he added.
The spokesman further advised such regional states to avoid interference in Syria's affairs.
He added that Syria has turned into a yardstick for assessing the hidden intentions of certain states inside and outside the region which allege to be supporting public demands, but in fact are endeavoring to weaken the front of resistance through pressurizing the Syrian ruling system in a bid to relieve the Zionist regime of Israel from the pressures it has been experiencing after the start of Islamic Awakening moves in the region.
Syria has been experiencing unrest since March 2011 with organized attacks by well-armed gangs against Syrian police forces and border guards being reported across the country.
Hundreds of people, including members of the security forces, have been killed, when some protest rallies turned into armed clashes.
The government blames outlaws, saboteurs, and armed terrorist groups for the deaths, stressing that the unrest is being orchestrated from abroad.
In October, calm was eventually restored in the Arab state after President Assad started a reform initiative in the country, but Israel, the US and its Arab allies are seeking hard to bring the country into chaos through any possible means. Tel Aviv, Washington and some Arab capitals have been staging various plots in the hope of stirring unrests in Syria once again.
Few West-backed hardline Arab states, including Qatar and Saudi Arabia, advocate arming Syrian rebels and calling for Assad's departure, while the rest of the Arab and Muslim world want to see a political solution.