Syria
Islamic Iran Stresses Opposition to Foreign Meddling in Syria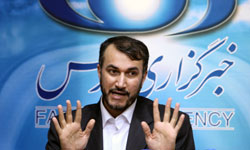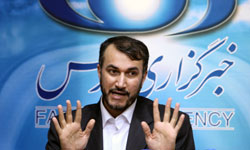 Iranian Deputy Foreign Minister Hossein Amir Abdollahian strongly rejected foreign interference in Syria's internal affairs, and said Syrians would never allow foreigners, specially the expansionist Zionist regime, to meddle with their countries' internal affairs.
"The Syrian leadership and people, who are in the frontline of resistance and support for the Palestinian people, will move well on the path of confrontation with foreign interference and Zionist regime's expansionism as well as reforms," Amir Abdollahian said in a meeting with Emirati Deputy Foreign Minister for Political Affairs Tariq Ahmad al-Heidan here in Tehran on Wednesday.
Also during the meeting, the Iranian deputy foreign minister briefed the Emirati official on Tehran's positions on the developments in Yemen and Bahrain, and called for the materialization of the people's demands and the pullout of foreign forces from the two countries.
Syria has been experiencing unrest since mid-March with organized attacks by western and zionists-backed well-armed gangs against Syrian police forces and border guards being reported across the country.
Hundreds of people, including members of the security forces, have been killed, when some protest rallies turned into armed clashes.
The government blames outlaws, saboteurs, and armed terrorist groups for the deaths, stressing that the unrest is being orchestrated from abroad.
Syrian state television has broadcast reports showing seized weapons caches and confessions by terrorist elements describing how they obtained arms from foreign sources.
In confessions broadcast on the Syrian TV in September, a captured terrorist revealed the tactics used by armed terrorist groups to stir tension in Syria and the role played by the foreign elements in Syrian unrests.
The terrorist, Ammar Ziyad al-Najjar, confessed that he received foreign aid and instructions from contacts in Saudi Arabia and Jordan to deface Damascus.
Al-Najjar stated that he was involved in a group that received instructions on how to kidnap people and blame it on the Syrian government.
The man also confessed to, among other crimes, purchasing firearms and distributing them among outlaws.
He also recounted how groups of outsiders, many of whom not Syrians, showed up during the attacks on police stations in Hama.
Najjar said the men would distribute food and drink to demonstrators, sometimes slipping money into the food to encourage protests and adding stimulant powders at other times.
There was another type of pills that made people more aggressive – pills that were given openly to members of the foreign-backed terror squads, he explained.