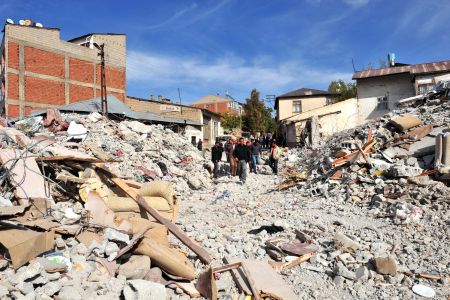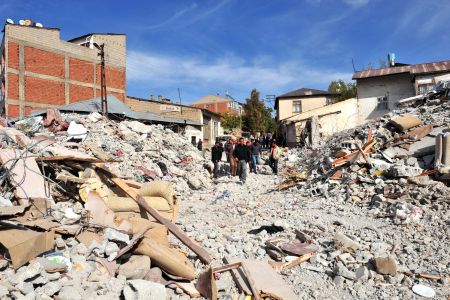 The Iranian Red Crescent Society (IRCS) will set up a second relief camp in Turkey to help victims displaced by the country's 7.2-magnitude earthquake that hit its southeastern region.
An official with the governor's office of Iran's West Azarbaijan province announced Tuesday night that IRCS intends to set up a second camp in the Turkish city of Ercis in Van Province by Wednesday morning.
Javad Mahmoudi went on to say that 465 tents will be set up in the camp to accommodate the people whose houses are demolished during the strong quake.
The first camp of the Iranian Red Crescent Society was set up only hours after the earthquake hit.
Iran also dispatched the second batch of its humanitarian aid to southeastern Turkey from the northwestern Iranian city of Khoy in West Azarbaijan province on Monday.
The consignment, comprised of blankets, bottles of mineral water, bread, fuel, mats, medicine and tents, was dispatched to eastern Turkey where the quake has leveled buildings and killed at least 459 people.
Iran's first humanitarian aid cargo for quake-stricken eastern Turkish city of Van left the northwestern city of Khoy late Sunday.
More than 10 people injured in Sunday's earthquake in Turkey were transferred to Iran from the eastern Turkish city of Van through the Razi border crossing on Sunday and hospitalized in Khoy.
Moreover, Iranian Red Crescent Society Director Mahmoud Mozaffar said the organization is ready to dispatch assistance to the earthquake-stricken people of Turkey, adding, "We still do not have a report on the damage inflicted on Iranians living in border areas, but the Red Crescent is ready to send any humanitarian aid that Turkey requests."
The epicenter of the earthquake was in the village of Tabanli in Van province.
Earlier, experts from Turkey's main seismography center said that the death toll may surpass 1,000.
The Kandilli seismographic observatory made the estimate based on the strength of the quake and the architecture of structures in the area.
The earthquake also jolted buildings in neighboring Armenia and Iran. It was the strongest temblor to hit Turkey in almost a decade.
Sunday's earthquake shook the ground furiously and left buildings in piles of twisted steel and blocks of concrete.
In 1999, about 18,000 people died in two powerful earthquakes that struck the northwestern part of Turkey.