Iran
Islamic Iran to Unveil New Generation of Indigenous Fighter Jets Soon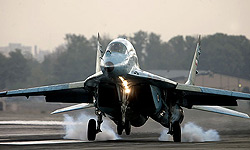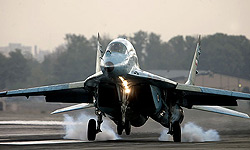 Iran has developed a new generation of the indigenous Saeqeh (Thunderbolt) fighter jets with enhanced capabilities, an Iranian defense official announced on Sunday, adding that the new warplanes will replace the present Saeqeh fleet in the next few months.
Speaking to FNA, Deputy Defense Minister for Industrial and Research Mohammad Eslami pointed to country's plan to expand the fleet of its Saeqeh aircraft, and stated, "Along with this project, a new generation of fighter jets will be developed to replace them (the existing fleet)."
"God-willing they will be delivered to the Air Force under a new name by the end of the current (Iranian) year (ending March 20, 2013)," he said about the new generation of Saeqeh fighter jets.
"They will be an upgraded version of Saeqeh fighter jets," he noted.
Eslami further announced that a number of aircraft missile projects are underway in Iran, and said these new missiles are fully unknown to enemies.
"These are new weapons and are only known to us," the deputy defense minister said, and added, "In this project, our fighter jets will be equipped with new missiles and missile equipment."
In September 2011, the Iranian Air Force's first squadron of home-made Saeqeh fighter jets started operations during the large offensive air drills codenamed "Fadaeeyan-e Harim-e Vellayat III" in Northwestern Iran.
In September 2010, Iran displayed the first squadron of Saeqeh in an air show staged during the military parades at the beginning of the Week of Sacred Defense, marking Iranians' sacrifices during the 8 years of Iraqi imposed war on Iran in 1980s.
In recent years, Iran has made great achievements in the defense sector and gained self-sufficiency in essential military hardware and defense systems.
The country has repeatedly made it clear that its military might is merely based on the state's defense doctrine of deterrence and that it poses no threat to other countries.