Iran
Islamic Iran warns West over mischievous acts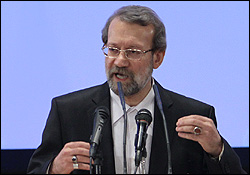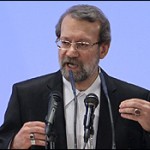 Iranian Majlis (Parliament) Speaker Ali Larijani says the West's schemes against Iran's nuclear program are mischievous acts and will have serious consequences.
"The Iranian nation is prepared for everything, and we deem the mischievous acts of the zionist regime [of israel], the United States and the West as moves replete with thoughtlessness," Fars News Agency quoted Larijani as saying on Wednesday.
The Iranian official further warned the US and its Western allies of the consequences of their attempts to hinder Iran's peaceful nuclear activities.
Larijani described the Tuesday report by the International Atomic Energy Agency (IAEA) on Iran's nuclear program as a hasty move in collaboration with the US and its allies.
The parliament speaker recalled comments by US president Barack Obama and his French counterpart Nicolas Sarkozy about the imminent release of a significant IAEA report on Iran.
It seems that Obama made a mistake to make such a statement, because Obama's remarks show that the IAEA and Washington had collaborated on this issue, he noted.
Larijani also criticized IAEA Director General Yukiya Amano for not mentioning Iran's cooperation during the investigations made by the UN nuclear body.
Larijani also questioned Amano's report for including Israeli allegations against Iran's nuclear program. "Is the Zionist regime an IAEA member that [makes] Amano say he has obtained the details of his report through the agency's member states?"
He described Iran's nuclear program as a "national issue," which the Iranian nation will never abandon.
Amano's latest report on Iran's nuclear activities was given to the 35 members of the Board of Governors on Tuesday evening, ahead of the seasonal meeting of the board, which is scheduled to be held in Vienna from November 17 to 18.
Iran dismissed the report as "unbalanced, unprofessional and prepared with political motivation and under political pressure by mostly the United States."
The United States, Israel, and some of their allies accuse Tehran of pursuing military objectives in its nuclear program.
However, as a signatory to the nuclear Non-Proliferation Treaty and a member of the IAEA, Iran argues that it has the right to develop and acquire nuclear technology for peaceful purposes.
In addition, the IAEA has conducted numerous inspections of Iran's nuclear facilities but has never found any evidence indicating that Iran's civilian nuclear program has been diverted towards nuclear weapons production.