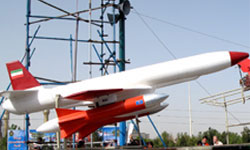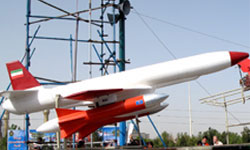 The Iranian Army plans to increase the range of its home-made Unmanned Aerial Vehicles (UAVs) and also equip its reconnaissance drones with missile-launching systems, an Iranian commander said on Sunday.
Speaking to FNA, Lieutenant Commander of the Iranian Army's Self-Sufficiency Jihad Rear Admiral Farhad Amiri referred to Iran's capability in designing and building different types of drones, and explained that UAVs are usually used for collecting intelligence and information, wiretapping, photography and shooting footage, but they can also be used for other purposes on the basis of their power and capabilities.
"For example, in naval missions we need long-range UAVs or we need the drones which have the capability to launch missiles, each of which needs its own special technology," he added.
"Of course, all these (projects) are on our working agenda in a move to satisfy our needs during the next two years," Amiri underlined.
Iranian President Mahmoud Ahmadinejad in August unveiled the country's first home-made combat UAV.
The Karrar UAV is capable of carrying a military payload to carry out bombing missions against ground targets. It is also capable of flying long distances at a very high speed.
Also, Iran in early February 2010, inaugurated the production line of two home-made UAVs with bombing and reconnaissance capabilities.
The two hi-tech drones named 'Ra'd' (Thunder) and 'Nazir' (Harbinger) are capable of conducting long-range reconnaissance, patrolling, assault and bombing missions with high precision.
Ra'd which is a UAV of choice for assault and bombing missions has the capability to destroy the specified targets with high pinpoint precision.
Experts believe that once the UAV enters the scene of aerial missions, it would enhance the reconnaissance, patrolling and defensive power of the Islamic Republic of Iran's Armed Force.
Iran has recently made good progress in the air industry and has succeeded in gaining the technical know-how for producing stealth aircraft and drones.
Iran successfully tested a home-made radar-evading UAV with bombing capabilities in June 2009. Also in 2008, the country's Defense Industries launched production lines of two well-known home-made fighter jets, namely Saeqeh (Thunderbolt) and Azarakhsh (Lightening).