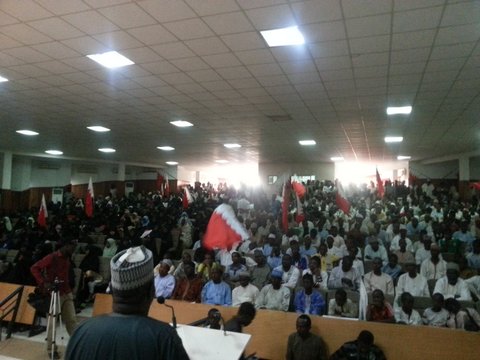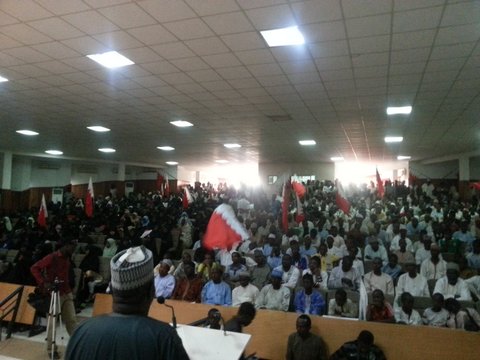 The Islamic movement in Nigeria under the leadership of Shaikh Ibraheem Yaquob El-Zakzaky (H) marked Bahrain International Solidarity Day with a two day programme 14th -15th February 2013 at Kano, Nigeria.
A conference was held on 14th February, 2013 at the conference hall of Mumbayya house of Bayero University with a reknown historian Prof Dahiru Yahya and Shaikh Muhammad Turi as a special guest speakers. Community leaders and the general public were in attendance. Barrister Haruna Magashi also delivered a short lecture on human right at the conference.
Bahrain has a total population less than a million and ruled by Al Khalifa family. For many years its inhabitants have been subjected to different forms of intimidation, harassment and oppression which the main stream media closed its eyes from reporting. Its citizens can be de-nationalized for not supporting the policies or atrocities of the ruling clique while those that support ruling class' atrocities are nationalized. Bahrain today provides a safe haven for fun seeking holiday makers from neighboring countries like Saudi Arabia. The ruling class today is in control of about 80% of the total wealth of the country when its citizens face all sort of poverty.
Speakers at the conference highlighted the plight of Bahraini People, and just because Bahrainis peacefully protest against all form of inhuman treatment the ruling class security machinery clamp down on the defenseless peaceful protesters. They reiterated the fact that history has never recorded oppressors as victors over the oppressed once the oppressed remain resolute and steadfast.
The speakers also highlighted that indeed humanity have lessons to learn from Bahrain on how resolute oppressed can stand up and say no to oppression and by God grace oppressors will no longer have safe haven as one day oppression will come to an end.
Cross sections of participants at the conference when interviewed sympathized with the oppressed Bahrainis and extend their solidarity, expressing they owe a duty to stand by the oppressed. They also expressed their disgust on the so called protectors of human rights, democracy etc who remain mute to the forms of oppression meted on defenseless citizens.
On Friday after Friday prayers a rally in support of Bahrainis was held at Fagge jumma'at mosque with a speech delivered by Shaikh Muhammad M Turi. The unequivocally solidarity slogans aired at the rally is Allahu Akbar!!! No to oppression!!! Freedom to Bahrainis!!! Death to America!!! Death to oppressors!!!