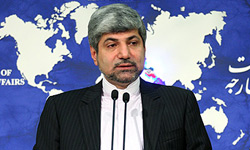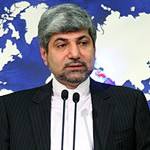 Islamic Republic of Iran's Foreign Ministry Spokesman Ramin Mehmanparast says the electoral victory of Islamic parties' candidates throughout the Middle East has horrified the western courtiers.
"This matter has frightened the Americans and israelis, and we must not allow their schemes in the region to deviate the nations' movements," Mehmanparast said on Saturday.
"They (Western powers) want to portray Iran as the main threat, they want to show that we are the cause of insecurity and instability" in the region, ISNA quoted Mehmanparast as saying.
The Iranian official said the West's attempts are aimed at "spreading Iranophobia" in order to foment discord between the Islamic Republic and other countries in the Middle East.
Referring to the expulsion of the Iranian mission from the UK, Mehmanparast said the US and its allies intend to accuse Iran of breaking the law, and provoke embassies in Iran to reconsider their ties with Tehran.
Angry students protested outside the British Embassy on November 29, pulling down the UK flag and demanding the speedy expulsion of the British envoy.
The protest followed a Majlis (parliament) decision on November 27, which was also approved by the Guardian Council the next day, to downgrade relations with Britain to the level of charge d'affaires and limit all economic and cultural collaboration with London to the minimum level.
The Iranian lawmakers acted on the bill in response to the UK's recent decision to impose unilateral sanctions against the Central Bank of the Islamic Republic of Iran over allegations that Tehran's nuclear program may consist of a covert military aspect.
Britain used this pretext to "immediately" close Iran's embassy in London and expel Iranian diplomatic missions from the UK.