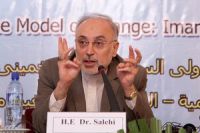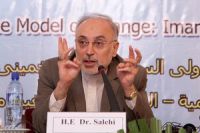 Iran's foreign minister said undoubtedly the main characteristic of Islamic and popular uprisings has been associated with the name of Imam Khomeini.
According to ISNA, Ali Akbar Salehi said at the 7th international conference on Imam Khomeini and foreign policy in Tehran that from the viewpoint of Imam Khomeini the main support for the Islamic system is based on the necessity of creating an ideological movement and an internal change in the Islamic society and as long as this change is not occurred in every individual of the society the main pillar of the Islamic movement will not be erected.
The 7th International Confab on Imam Khomeini (May his soul rest in peace) and Foreign Policy has kicked off at the Political Studies Bureau of Iran's Foreign Ministry in Tehran on Monday.
According to IRIB World Service, the Egyptian thinker, Sahmi Hovaidi delivered a speech in the inaugural ceremony of this conference.
The era of Imam Khomeini and change in global equations; Islamic unity in the view of Imam Khomeini; resistance and its role in change and foundation of civilizations in the view of Imam Khomeini; the role of people and the model of change in the foreign policy of Imam Khomeini; and the influence and role of digital media in the development of foreign policy, are the pivotal topics of discussion in this one-day confab.