Days of Allah
Islamic Republic of Iran celebrate 33rd anniversary of Islamic Revolution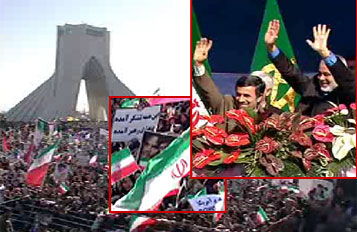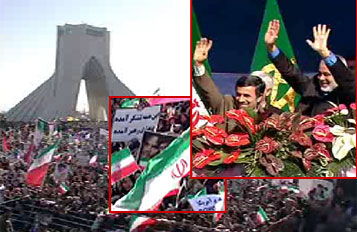 Palestinian Prime Minister Ismail Haniya congratulated the Iranian people on the 33rd anniversary of the Islamic Revolution of Iran (1979).
Mr. Haniya, in Tehran for an official visit, was speaking to Iranian marchers in Tehran's Azadi Square, the venue of the ceremonies to mark the 33rd anniversary of the landmark Islamic Revolution.
"On behalf of the Palestinian people who are struggling in Beit ul-Moqaddas and the surrounding regions, I greet the Iranian nation and congratulate them on the anniversary of the victory of the Islamic Revolution," he said.
He also congratulated the birth anniversary of the Noblest Messenger of Allah, Hadhrat Muhammad to the Iranian nation and the Islamic Revolution Leader Ayatollah Sayyed Ali Khamenei.
He said he was visiting the Islamic Republic after five years of bully siege by the Zionist regime on Gaza. "I meet you today after the victorious Gaza war and the heroic defense of the Palestinian people," he added.
Haniya in another regard, renewed his allegiance to the Palestinian revolutionary aspirations and reaffirmed that the popular, ruling Hamas party will never recognize "Israel".
He said Jihad and resistance was the only strategic option for the Islamic ummah and the sole solution to liberate the occupied Quds.
He said the current era was the era of nations and that the popular uprisings in the Muslim and Arab countries underline the reality that time has come for the victory of nations. "No one is able to break the resolve of nations," he added.
The Palestinian premier said his nation rejects the US and Zionist regime's threats exerted against the Islamic Republic and will stand by the Iranian nation against those threats.
Ismail Haniya said the Palestinian nation will stand against any alien intervention in the Arab and Muslim world and calls for unity among Muslims.