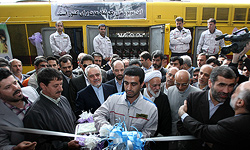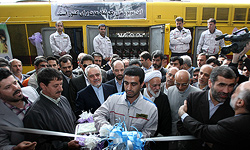 Iran on Tuesday unveiled the first diesel-engine locomotive, produced by the country's experts, in a ceremony attended by First Vice-President Mohammad Reza Rahimi.
After unveiling the diesel engine locomotive, Rahimi was briefed on the potentialities of this national achievement gained by the Iranian experts.
This diesel locomotive has been produced at the cost of 77 billion rials and it is about 3,710 kilos in weight.
Its engine power is rated at 1,000 kW per minute.
Diesel is a strategic industry, and by using this heavy oil as a fuel instead of gas for locomotives, the Islamic Republic of Iran has joined the 12 world countries which manufacture this type of engine.