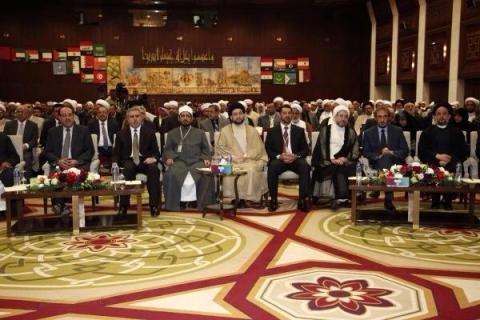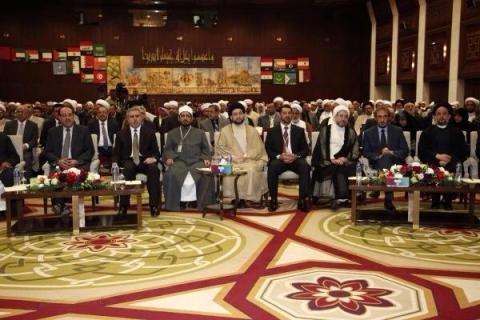 International conference on "proximity and dialogue" kicked off in the Iraqi capital of Baghdad on Saturday April, 27, participated by renowned figures from across the world.
First meeting of international conference on "Dialogue and Proximity of Islamic Denominations" opened in Iraq with the theme of Muslims are brothers, reported Taqrib News Agency (TNA).
Among the prominent figures attending the meeting were Iraqi Premier, Nouri al Maliki, Khazir Khazaei, Vice President, Ayatollah Mohsen Araki, Secretary General of the World Forum for Proximity of Islamic Schools of Thought, Ayatollah Mohammad Ali Taskhiri, President of the Supreme Council at the World Forum for Proximity of Islamic Schools of Thought, Ibrahim Jafari, Head of Iraq National Iraqi Alliance, Seyyed Amar al Hakim, Chairman of the Islamic Supreme Council of Iraq as well as Ahmad al Sameraee and Seyyed Sakeh Heidari, heads of the Sunni and Shia Waqf (Endowment) Offices.
Noori al Maliki, Iraqi Premier in this meeting underscored the importance of Islamic unity and said," There is no way but maintaining unity for Muslims to handle the intrigues in Iraq."
He said," Wrong and extremist ideas collapse high thoughts and scientific organizations and sectarian intrigues have to be put off merely through cooperation of religious leaders."
Iraqi premier called the conference a historical opportunity amid the present crisis in Iraq.
He referred to Islam as a religion of blessing, friendship and affection and added," Sectarian thoughts have no domestic source and are injected from outside." And stressed the importance of scientific debates on proximity among Islamic denominations and avoiding prejudices as well as standing agisnt excommunicative thoughts.
Khasir Khazaei, Iraq's Vice President highlighted the necessity of preventing excommunicative thoughts saying," The reason for disagreements and prejudices in Islamic community is the minor differences between Shia and Sunni which led to excommunicative fatwas allowing the killing of innocent people."
Seyyed Ammar al Hakim, Head of the Islamic Supreme Council of Iraq, in this conference quoted grand Ayatollah Ali al Sistani, top Iraqi Shia jurisprudent, and said, "His excellency said to view Sunni Muslims as ourselves and not as a brother." Adding that this thought is the basis for our movement.
He counted peace and security as two important needs stressed by the jurisprudents.
Sheikh Khalid al Mala, head of Iraq's Society of Sunni Scholars, praised the role of Muslim scholars in resistance against the challenges and easing the crisis.
"We believe that the traps ahead of Iraqi nation will not damage the national determination of the people." He said and added that such conferences will continue stressing the commonalities till the intended objectives are achieved.