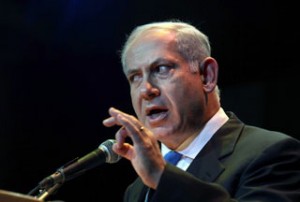 The Israeli prime minister says any Palestinian step toward a unilateral declaration of independence will be answered by 'one-sided Israeli measures'.
"There is no substitute for negotiations between Israel and the Palestinian Authority and any unilateral path will only unravel the framework of agreements between us and will only bring unilateral steps from Israel's side," Israeli newspaper Ha'aretz quoted Netanyahu as saying on Sunday.
Chief Palestinian negotiator Saeb Erekat had earlier declared that the Palestinians are considering appealing to the UN Security Council to endorse a unilateral declaration of independence in the territories captured by Israel during the 1967 Middle East War, with Jerusalem Al-Quds as its capital city.
"Palestinians are not going to take any unilateral steps. Palestinians and Arabs are seeking in consultation with the Europeans, the Russians, the UN, the African group, the Latin group, the Asian group, others, and the Americans, to see the possibility of having the Security Council pass a resolution to recognize the two state solution on the '67 border," Erekat said in response to Netanyahu's comments.
Erekat had stated Israel is blocking the Middle East peace talks by refusing to recognize the two-state solution.
"We're fed up with your time-wasting," Erekat told Israel's Army Radio on Sunday, according to Haaretz.
"We don't believe that you really want a two-state solution," he added.
"Israel is continuing the occupation and is not prepared to return to the negotiating table," the Palestinian negotiator said.