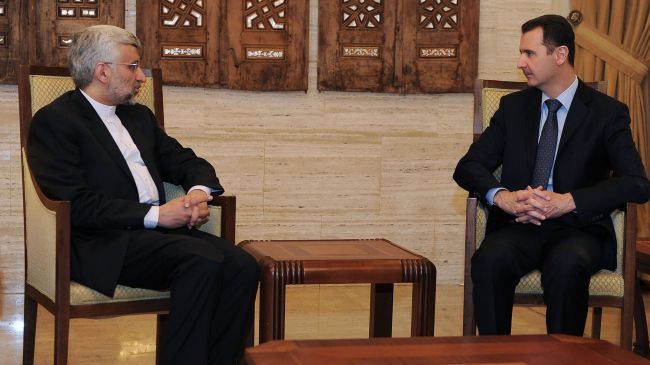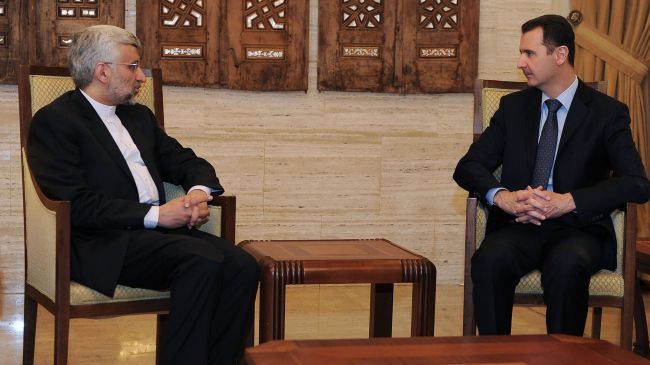 Syrian President Bashar al-Assad says Israel is trying to destabilize Syria by attacking a military research base outside Damascus.
In a meeting with Secretary of Iran Supreme National Security Council Saeed Jalili on Sunday, Assad commented for the first time on the recent airstrike on Jamraya, saying the attack has exposed Tel Aviv's collaboration with foreign-backed insurgents.
The Syrian president said his country's military was able to confront "current threats…and aggression" against Syria.
The Syrian president's remarks come after Syria warned the United Nations on January 31 of a possible surprise response to Israel following the Jamraya airstrike.
Jalili, for his part, stressed Iran's support for Syria in confronting Israel and also underlined the need for fighting foreign plots and conspiracies which aim to destabilize the country.
He assured the Syrian president that the Muslim world would stand by Syria in its faceoff with the Zionist regime.
Jalili also met with Syrian Foreign Minister Walid al-Muallem during his visit to the country.
The Syrian Army said in a statement on Wednesday that two people had been killed and five others injured in an Israeli airstrike on Jamraya.
In the letter to the United Nations Secretary General Ban Ki-moon, the Syrian Foreign Ministry said on Thursday that "Israel and those who protect it at the [UN] Security Council are fully responsible for the repercussions of this aggression."
Also on Thursday, Syria called on the Security Council to issue a "clear condemnation of the flagrant Israeli attack on the territories of a sovereign state and the Israeli violation of the UN Charter, the international law, the [1974 Agreement on] Disengagement…and the relevant UNSC resolutions."