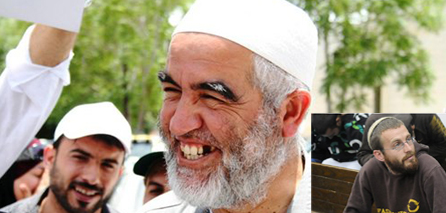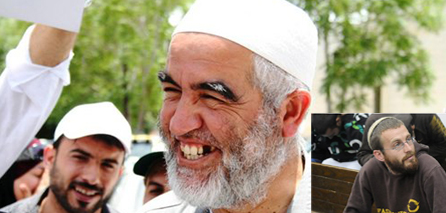 Israeli security service Shin Bet enlisted Israeli terrorist accused of killing two Palestinians to kill head of Islamic movement in occupied territories of 48 Sheikh Raed Salah whether by shooting him directly or by planting explosive device inside his car.
Israeli terrorist Chaim Pearlman who was suspected of murdering two Palestinians in 1998, eventually recognized that he was enlisted by Israeli security service Shin Bet to commit murdering crime against Sheikh Raed Salah who was previously listed by Israeli authorities to be killed on Mavi Marmara aid ship in 31/5/2010.
This is not the first, and will not be the last attempt to kill a -53- old man for his effort in defending Al Aqsa mosque and the holy land of Jerusalem from criminal acts of Israeli occupation forces.
Israeli criminal Pearlman exposes the mentality of terrorism of Israeli community, especially when dealing with Palestinian people.
Previous attempt of killing Sheikh Salah failed when Israeli elite commandos forces attacked civilian activists onboard Freedom Flotilla aid ship.
Israeli soldiers who were enlisted to kill a group of activists onboard the aid ship of Marmara, missed their main prey to kill a Turkish old man who had same characters with Sheik Raed Salah.
Israeli authorities aim to stop the effective voice of Raed Salah in defending the Al Aqsa Mosque and exposing Israeli terror against Islamic properties in the holy land, and the Israeli policy of Judizing the occupied city of Jerusalem.
The far right wing- Israeli terrorist Pearlman was accused in 1998 of killing two Palestinians by stabbing them fatally and was accused of responsibility for a string of attacks on other Palestinian victims.
Israeli occupation claimed that Chaim Pearlman, 29, was arrested on Tuesday and he also faces weapons possession charges.
Meanwhile, this criminal attempt reveals the real face of Israeli security service Shin Bet who funds terrorist acts against Palestinian people and its most effective figures.
No doubt, recognition of Pearlman exposes racism of Israeli government which consists of a group of extremists who still committing crimes against unarmed people of Palestine, confiscating homes in occupied Jerusalem and imposing unjust siege on Gaza Strip.
Criminal Shin Bet and Israeli government reflect that they have no morals when dealing with Palestinian citizen who has Israeli citizenship and carries Israeli ID and claimed to be living in what so-called Israel.
Apartheid Israel confiscates Palestinian homes in occupied Jerusalem to replace them with Israeli settlers as part of project to Judaize occupied city of Jerusalem.
Moreover, Israeli authorities try to expel members of Palestinian legislative council in Jerusalem from their homes for no reasons.
At the same context , Israeli occupation threatens Palestinian MPs whether to be jailed or to face deportation.
As a result, Human rights organizations and international community have condemned the Israeli district measures against members of Palestinian Parliament describing the step as racist behavior and unreasonable.