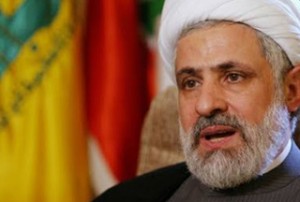 Israel has been planted in the Middle East to serve the policies of the Western powers, an official of the Lebanese resistance movement Hezbollah says.
Hezbollah Deputy Secretary General Sheikh Naim Qassem said Israel is being used to establish hegemony over the region, the Press TV correspondent in Beirut, Ali Rizk, reported on Tuesday.
Israel previously planned to use Lebanon as an intelligence base, Qassem added.
Should Israel renew its attacks, Qassem said, there would be serious consequences for Israel and Lebanon.
Lebanon, though, would emerge victorious and be able to rebuild, the Hezbollah official added.
In late April, Israel and the United States accused Syria of supplying Hezbollah with Russian-made Scud missiles. Israel also recently sent its forces into Lebanon's border town of Abbassiyeh, fired flares over southern parts of the country, and violated Lebanese airspace.
Damascus, Beirut, and the Hezbollah movement itself have rejected the claims about arms transfers.
Lebanese Prime Minister Saad Hariri and Syrian Foreign Minister Walid al-Muallem have drawn a parallel between the accusations and Washington's claim that Iraq possessed weapons of mass destruction, used as the main pretext for the US-led invasion of Iraq in 2003.