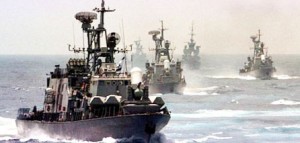 Tons of humanitarian aid remains confiscated by Israel which seized the cargos in a bloody assault on the international convoy bearing them.
The relief supplies amount to 10,000 tons of construction material, medical equipment and school supplies.
The seizure took place during Israeli commando's confrontation with the multinational relief mission, Freedom Flotilla, in international waters on May 31. The attack killed at least 20 activists.
The Palestinian resistance movement on Tuesday rejected Tel Aviv's claim that the group is to blame for the cargos' not reaching their original destination, the Gaza Strip, the German Press Agency (DPA) reported.
Hamas spokesman Fawzi Barhoum said, "The problem is with the Israeli occupation, which imposes its conditions and mechanisms as it wants, and not as the international organizations want."
"The one who is rejecting is Israel, not Hamas," Barhoum noted, saying that Tel Aviv is trying to "to continue misleading world public opinion."
He called on the international community "to interfere to end the siege" of Gaza. Almost in their third year, the restrictions have deprived the Palestinians of food, fuel and other necessities.