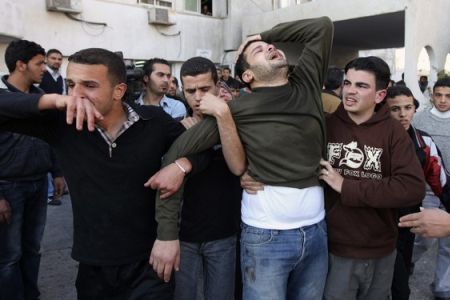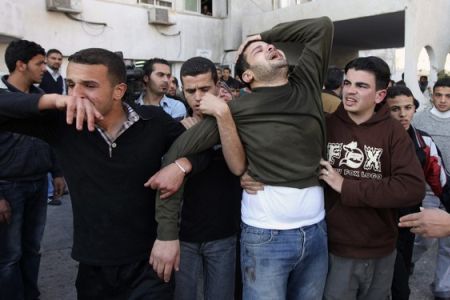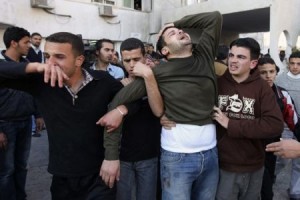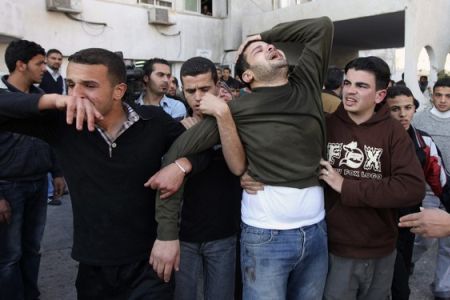 Israeli warplanes killed four Palestinians in an air strike on Az-Zaitoun neighborhood south of Gaza City on Tuesday evening, medics said.
The attack came hours after Israeli artillery fire hit a home east of Gaza City killing a child, a teenager and three adults.
Emergency services spokesman Adham Abu Salmiya said the four victims of the latest strike were members of the Al-Quds Brigades. They were all in their 20s, he said.
Abu Salmiya identified those killed as Adham Al-Hazareen, Sa'dy Hals, Muhammad Atyeh Al-Harazeen and Muhammad Abed.
An Israeli military spokeswoman said Israeli fighter jets identified "a group in northern Gaza who she said were preparing to launch a projectile into Israel. The warplanes dropped missiles on the group "and confirmed a hit," she added.
The army official said the men targeted were from the same group that launched a grad rocket into Israel on February 23, but could not say how they had been identified.
Civilians killed playing football
Earlier in the day, Israeli tanks fired at a home on An-Nazzaz Street in the eastern part of the Ash-Shaja'iya neighborhood in Gaza City.
Abu Salmiya said members of the Abu Hilu family were playing football outside the home when the shell hit.
Muhammad Jihad Al-Hilu, 11, Yasser Ahed Al-Hilu, 16, Muhammad Saber Harara, 20, Yasser Hamer Al-Hilu, 50, and a fifth unidentified victim were all killed in the attack, and several others were injured, the medical spokesman said.
Israel's military spokeswoman said forces fired toward a launch site for projectiles, but admitted that "uninvolved civilians were injured."
However, she blamed Hamas for operating "within a civilian population."
She added that the army "does not seek an escalation with this act."
On Tuesday morning, Israeli artillery fire injured one man and a drone strike critically injured another in the same area.
Shortly before midnight the day before, a series of Israeli air strikes injured 18, including women and children.
Several hours before the raids, Hamas' armed wing called for a truce.
Israel's military says Gaza militants have launched over 50 projectiles into Israel in recent days.
The Al-Qassam Brigades, the military arm of Hamas, said it fired mortars into Israel in response to an air strike that killed two of its members on Wednesday.
But the group said it would commit to a ceasefire if Israel stopped bombarding the Gaza Strip.