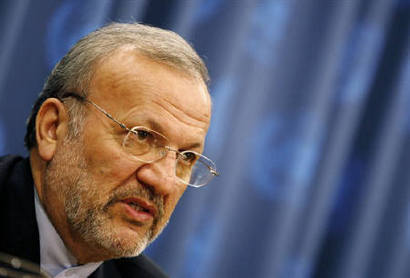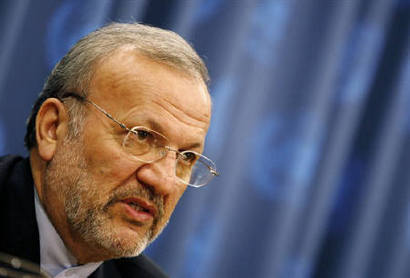 Iranian Foreign Minister Manouchehr Mottaki has dismissed speculations about a possible Israeli attack on Iran, saying Tel Aviv lacks the courage to attack Tehran.
"The foundation of the Israeli regime is based on threats and decades of incursion in the region, but it does not have the courage to strike Iran," Mottaki told Spanish media on Tuesday, according to IRNA.
The Iranian minister further endorsed a diplomatic solution to the Palestine issue, urging the return of Palestinian refugees to their occupied land and holding a referendum in the country.
Regarding the monopoly of nuclear technology by certain states, Mottaki stressed that all countries reserve the right to have access to nuclear technology.
"The Islamic Republic believes that nuclear technology should not be monopolized by certain states and all nations should exercise their rights to access atomic technology," Mottaki noted.
Washington, Tel Aviv and their European allies claim that Tehran has plans to build a nuclear weapon and is pursuing military work under the guise of peaceful nuclear activities. Tehran has vehemently rejected the allegation.
The senior Iranian official termed Tehran's nuclear fuel swap deal as a "strategic step" forward in the country's nuclear program, stressing that Iran is studying the Vienna group's offer for nuclear talks.
The foreign ministers of Iran, Turkey, and Brazil signed an agreement in Tehran on May 17, according to which the Islamic Republic would ship 1200 kilograms of its low-enriched uranium to Turkey to be exchanged for 120 kilograms of 20 percent enriched nuclear fuel rods to power the Tehran research reactor, which produces radioisotopes for cancer treatment.
The Vienna Group, comprised of the United States, Russia, France, and the International Atomic Energy Agency (IAEA), was formed to work out a fuel swap deal for Tehran's research reactor. Iran says Turkey and Brazil should take part in the nuclear negotiations, as well.
"The International Atomic Energy Agency's (IAEA) cameras and inspectors are in Iran and our nuclear activities are thoroughly under the supervision of the agency, but we believe that in return for this cooperation [with IAEA], we reserve the right to benefit from our right based on fourth article of the IAEA, which is obtaining the IAEA's confirmation on the peaceful nature of our nuclear work," the Iranian diplomat continued.
The top foreign ministry official further criticized the recent UN resolution that extended sanctions as punishment for Iran's nuclear program.
"Sanctions are punitive measures and punishment is usually meted out for a committed crime, while Iran has not committed any crime whatsoever."
In an attempt to pressure Iran into halting uranium enrichment, the UN Security Council has so far imposed four sets of sanctions on the Islamic Republic.
The allegations and the unilateral sanctions against Iran come while the US possesses a nuclear arsenal and has used atomic weapons in the past.