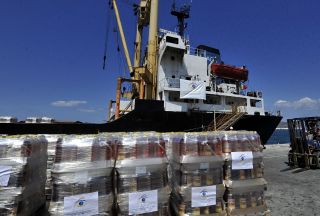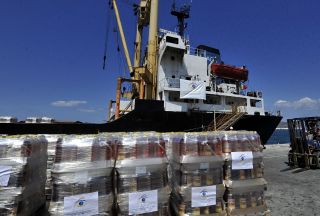 As part of its bid to impede pro-Palestinian relief efforts, Israel says it has blocked an attempt by Libya to deliver aid to the besieged residents of the Gaza Strip.
The Moldova-flagged cargo ship, the Amalthea, organized by the Tripoli-based Gaddafi International Charity and Development Association, was scheduled to depart from Greece to break the Israeli siege of Gaza.
The aid ship is carrying 12 crewmembers and 2,000 tons of food and medical supplies, including sacks of rice, sugar, corn oil and olive paste.
Meanwhile, the Israeli Foreign Ministry issued a statement on Saturday, saying that "Foreign Minister Avigdor Lieberman spoke several times in recent days with the foreign ministers of Greece and Moldova and reached understandings with them about dealing with the Libyan ship."
"The Foreign Ministry believes that due to these talks, the ship will not reach Gaza," AFP quoted the statement.
In addition to the cited negotiations, Israeli Defense Minister Ehud Barak had reportedly convinced Egypt to accept the Amalthea at its port of El-Arish.
This is while relief workers had previously been violently confronted at the Egyptian port.
Efforts by Tel Aviv to prevent the aid ship from reaching Gaza comes after on May 31, Israeli commandos assaulted the Gaza-bound Freedom Flotilla aid convoy, killing nine Turkish nationals onboard.
The fatal attack sent shockwaves across the world and raised global calls for an international investigation into the incident.
Following the international outcry, Tel Aviv said it would ease the land blockade, while keeping the naval surveillance strictly in order.
Palestinians, however, say the situation inside the impoverished Gaza Strip has not been improved, confirming that the restrictions continue to deprive the 1.5 million Gaza residents of food, fuel and other necessities.