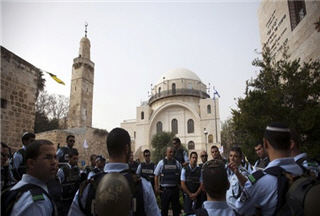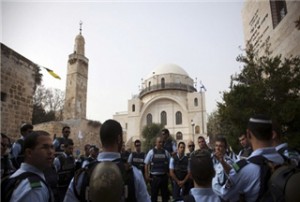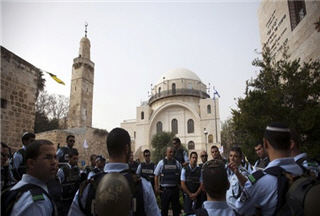 Israeli regime has reopened a synagogue in occupied east Al-Quds amid tight security, as Palestinian groups declared Tuesday a "day of anger" over the Zionist regime's atrocities in Palestinian occupied lands.
Islamic Resistance Movement Hamas also called on Arabs and Muslims to "come to the aid of Al-Aqsa in the occupied Al-Quds.
Palestinians consider the opening of the synagogue as the last step leading up to removal of Al-Aqsa Mosque and the establishment of the alleged temple place.
The reopening took place amid high tensions in the holy city, with thousands of Israeli soldiers deployed in occupied Al-Aqsa.
Leader of Hamas political bureau Khaled Meshaal slammed the move as "a falsification of history," and warned it could cause the Middle East to "explode."
"Israel is playing with fire and touching off the first spark to make the region explode," he said.
"We warn against this action by the Zionist enemy to rebuild and dedicate the Hurva synagogue. It signifies the destruction of the Al-Aqsa mosque and the building of the temple," he added.
Hatem Abdel Qader, who oversees Al-Quds affairs for Palestinian Authority Chief Mahmud Abbas's Fatah, said: "This is not just a synagogue."
"This synagogue will be a prelude to violence, extremism and religious fanaticism, and that will not be limited to extremist Jews" but includes members of the Israeli occupying regime.