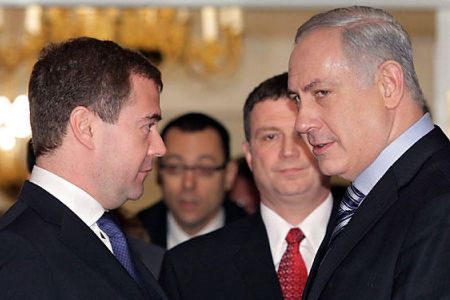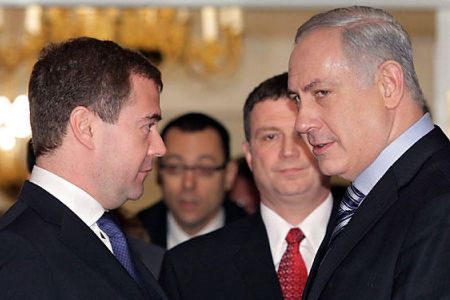 Israeli Prime Minister Benjamin Netanjahu and Russian President Dmitry Medvedev have met in Moscow to discuss recent developments in the Arab World and the Middle East.
At the Thursday meeting, Medvedev called for a review of the so-called 'peace process,' Press TV correspondent in Moscow reported.
"There are many events in the Middle East and North Africa. There are titanic changes on the way," Medvedev said.
"Recently, the situation has not developed in a positive direction. Let us see how these events affect the possibility of reaching compromises," the Russian president added.
For his part, Netanyahu expressed his wish for better prospects in the region.
Earlier, the Kremlin indicated that there are chances that Israel might agree to freeze its settlement activities.
However, observers say Russia's efforts alone are not enough to influence Tel Aviv's policies.
In a Press TV interview, political analyst Vyacheslav Morozov said, "Only [through] common efforts [by] the world society and the United Nations we can reach a good result because Israeli does not surrender; Israel will continue its policy and to stop this aggressive policy against the Palestinian people, needs not just one country."
Israeli settlement construction, which is illegal under international law, has been the main obstacle to dialogue and undermines efforts to establish lasting stability in the region.
Netanyahu blamed Abbas for being reluctant to resume negotiations.
Netanyahu's trip comes just after the acting Palestinian Authority Chief Mahmoud Abbas left the Russian capital.
But there was no reports of a direct meeting between them.
A day earlier, Abbas said he could meet Netanyahu once the necessary diplomatic grounds are prepared for such a meeting.
Direct talks between the two leaders came to a halt last September, after Israel resumed settlement construction in the occupied West Bank.