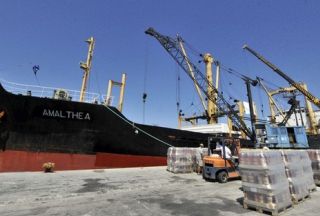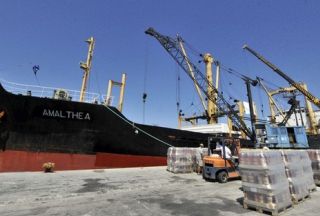 Israeli warships have intercepted the Libyan aid ship off the coast of Gaza, preventing the latest attempt by international activists to break Tel Aviv's three-year-old blockade of the Gaza Strip.
The Israeli navy forced the Moldovan-flagged Amalthea, which was renamed "Hope," to dock at the Egyptian port of el-Arish on Thursday.
The aid ship, organized by the Tripoli-based Gaddafi International Charity and Development Association, left Greece on Saturday carrying up to 15 activists and 2,000 tons of food and medicine.
The charity, headed by Libyan Leader Muammar Gaddafi's son, said it wanted to reach Gaza, but would not risk violence.
"This is just another crime perpetrated by Israel. Israel has once again violated the international laws and norms by its piracy at high seas," Ahmad Yousef, Hamas Deputy Foreign Minister, told Press TV.
Earlier the Israeli navy said the ship had run into engine trouble, but the organizers said it was a ploy by the captain to buy time for the Libyan charity to gather international support for the mission.
Human Rights activists have urged the international community to pay more attention to the besieged people of Gaza.
"We hope that there will be real intervention from the international community to get Israel accountable for its crime," Amjad Shawwa, a Human Rights activist, told Press TV.
The development comes six weeks after Israeli navy commandos stormed the Turkish-flagged ship Mavi Marmara, a part of the 6-ship Gaza Freedom Flotilla, in international waters on May 31, killing nine Turkish activists and injuring dozens of others onboard the civilian ship.
The brutal attack sent shockwaves across the world and raised global calls for an international investigation into the incident and an immediate end to the years-long blockade of Gaza.
In June 2007, Israel laid an economic siege on the Gaza Strip after Hamas took control of the coastal sliver.
Over 1.5 million Palestinians are living under the relentless Israeli blockade, which has now entered its fourth year.
The siege has caused a humanitarian disaster in the impoverished Gaza, where many have died due to food shortage and lack of medicine.