Palestine
Israel stunned by Palestinian uprising over racist settler riot and oppressive policies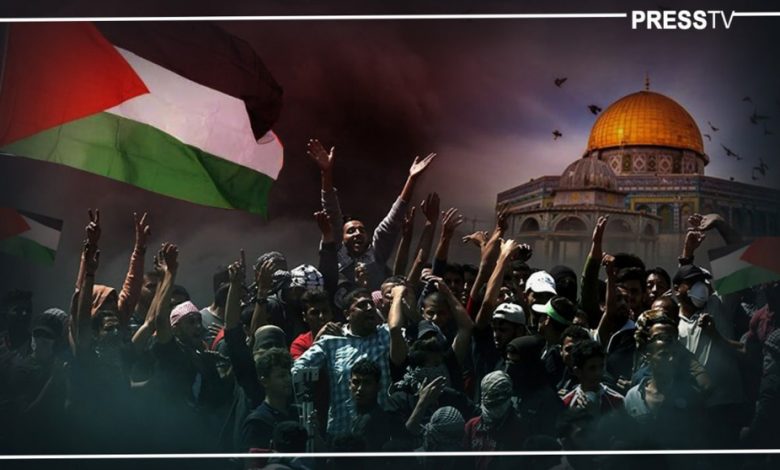 Last Thursday and Friday alone saw 450 Palestinians injured in clashes with Israeli occupation forces in Jerusalem (al-Quds), after Jerusalemites rose up to protect their city from Israeli settler extremists chanting "death to Arabs".
What started last Thursday could have marked the beginning of the third Palestinian Intifada, shocking the Israeli regime to its core. Since the first day of Ramadan Palestinians in al-Quds were faced with harsh restrictions surrounding and inside of the old city. At the Bab al-Amud (Damascus Gate) entrance to the old city of al-Quds, Israeli forces had set up barricades and had routinely blocked worshippers from using it to access the al-Aqsa Mosque, the third holiest site to Muslims.
On the first day of Ramadan, the Israeli occupation forces had even entered the al-Aqsa site and shut off its loud-speakers, preventing the call to prayer from being heard. Israel justified its move, criticized as racist, by stating that a memorial service was being held at the nearby Western Wall for dead occupation soldiers and that the sounds from al-Aqsa may disrupt the ceremony.
On top of this, settler groups had successfully won biased Israeli court battles to seize homes of Palestinians in the neighborhood of Sheikh Jarrar. After clashes, which had started from the first day of Ramadan and the settler aggression against them, a video went viral of a Palestinian teen slapping an Israeli settler on public transport, for which two Palestinians were arrested. Israeli settlers then began taking to the streets, filming themselves violently assaulting random Palestinians, bragging about it with a Tiktok challenge, which they wished to compete with the Palestinian viral clip.
After Palestinians began to fight back against Israeli settlers, Israeli settler gangs started to take to the streets of al-Quds from last Monday chanting "death to Arabs" and attacking more random Palestinians, in what was described by independent journalist Dan Cohen as "lynch mobs". Much of this key context has failed to have been mentioned by mainstream press when reporting on this issue.
By Thursday night, with all the various restrictions placed upon Palestinians and coming under the threat of a lynch mob of a thousand racist settler extremists, the people had had enough. Palestinians took to the streets to prevent the settlers from entering the Old City and reaching Masjid al-Aqsa, with Israeli forces working to protect the settler extremists and attack Palestinians.
A shock to Israel's system
What happened on Thursday night did not just enrage Palestinians in al-Quds, but in all of the occupied territories. Demonstrations broke out throughout the West Bank, Gaza Strip and even in the occupied interior, most noticeably Um al-Fahm. The Joint Room of Palestinian resistance factions also vowed a response; that response came in the form of around 30 rockets claimed by the PFLP's armed wing, the Abu Ali Mustafa brigades.
Israel had struck Gaza with airstrikes on the Friday night, when the PFLP had struck them, yet over the next three nights failed to act. This marked the first time that Israel has ever not responded to rocket fire, or started the exchange itself. Israel was genuinely fearing what looked to be the beginning of a new Intifada and tried desperately to calm things down, for fear of the repercussions of a Palestinian uprising. Days ago in fact, Israel even removed its barriers set up around Bab al-Amud in what has been celebrated as proof of the collective power of Palestinians united against Israel's policies.
Israel's Prime Minister, Benjamin Netanyahu, is still unable to form a regime, relying heavily on the extremist 'Religious Zionist' bloc in the Knesset to stick with him in order to prevent Israel going to its fifth round of elections in just two years.
Netanyahu is now in a tough position, after appearing weak before the head of 'Religious Zionism' Bezalel Smotrich and cannot properly stop settler attacks which will escalate tensions, even if he wants to act strategically in order to stop an uprising. On the 28th day of Ramadan, the same settler extremist group seeks to storm Masjid al-Aqsa and if Netanyahu acts to stop it, he may lose the support of the extremists he helped legitimize in order to aid him in Israel's last elections.
Israel is also petrified of escalating with Gaza for the fear of a military embarrassment and understands that if they are going to look like winners, they must sacrifice too many troops on a ground mission. But hundreds of slain occupation soldiers is political suicide for any Israeli politician and it is unlikely that Netanyahu would risk this.
Now it seems that Israel is sitting back and calculating, but are politically divided internally as they do so. They may be looking to assassinate key figures inside of Gaza, perhaps at a pivotal time as to drive a wedge between Hamas and their Fatah rivals. However, regardless of what Israel is planning, it shows that the armed factions in Gaza have achieved a significant triumph over Israel in that they have managed to put Israel in 'check'.
Source : Presstv