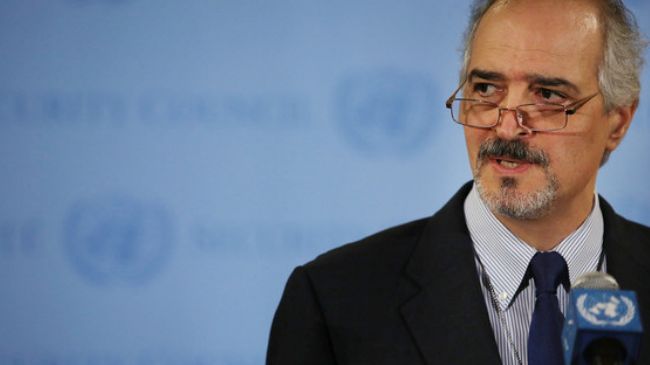 Syria has accused the Israeli regime of supporting foreign-backed militants operating against the government of President Bashar al-Assad.
"Israel is helping the terrorist groups on the separation line," Syrian Ambassador to the UN Bashar Ja'afari said on Tuesday, adding that the Tel Aviv regime "has sponsored, trained and hosted" the new commander of the so-called Free Syrian Army (FSA).
Ja'afari further censured the United States and its allies for interfering in Syria's internal affairs and lending support to the Takfiri militants inside the Arab country.
He stated that Turkey is also sponsoring and training the extremist terrorists who cross over from the border into Syria.
In late February, an unnamed Israeli commander admitted that the Israeli military is in contact with the foreign-backed militants in Syria.
Some reports have said hundreds of militants have received treatment in Israeli hospitals. Most of them have returned to Syria, where they battle government forces.
In late April, the Turkish daily Aydinlik said in a report that the former commander of the FSA, Salim Idris, acted as a middleman in the transfer of the US-made TOW anti-tank missiles from Turkey to the militants in Syria.
On March 30, Syrian Information Minister Omran al-Zoubi said the Turkish government was facilitating the entry of foreign militants into the Christian town of Kasab in northwestern Syria near the Turkish border.
Ja'afari also slammed Washington's double standards in dealing with militant groups in Syria and other places in the world, saying the US administration considers Takfiri militants in countries like Nigeria as terrorists but calls the same militants in his country "armed moderate opposition" and backs them.
Syria has been gripped by deadly violence since 2011. According to reports, the Western powers and their regional allies — especially Qatar, Saudi Arabia and Turkey — are supporting the militants operating inside Syria.