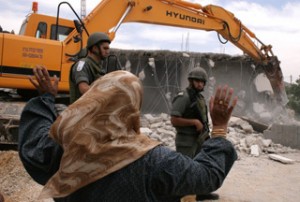 Ethnic cleansing of al-Bustan neighborhood in al-Quds (Jerusalem) continues with new plans to demolish 88 Palestinian homes to build "green space" for the area.
The residents of al-Bustan fear imminent demolitions as Israeli police were observed taking photos and film footage of Palestinian homes.
The presence of over a dozen police has sparked fears that Israeli officials are contemplating mass demolitions in the coming weeks ,local news agency reported Sunday.
Head of the Defend al-Bustan Committee, Fakhri abu Diab, said residents were terrified that the filming meant local authorities had decided to implement a long-standing plan to demolish some 88 homes in the neighborhood in order to turn it into a national park.