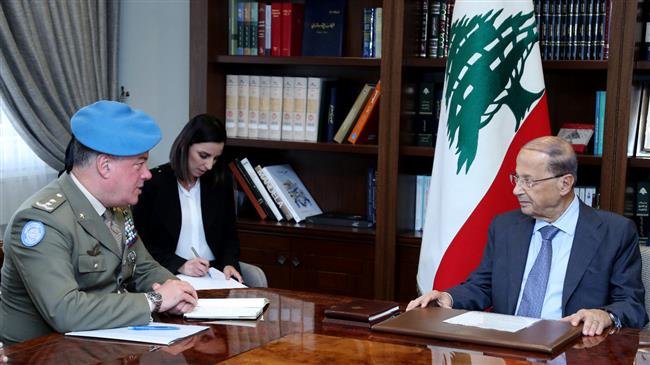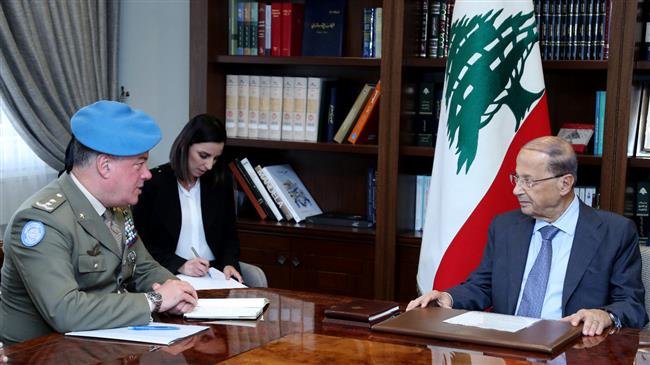 Lebanese President Michel Aoun has dismissed the Tel Aviv regime's allegations about secret weapons sites of Hezbollah resistance movement near Beirut's international airport as unfounded, stating that such claims are part of Israeli officials' strategy to escalate tension in the southern part of his country.
In a meeting with the United Nations Interim Force in Lebanon (UNIFIL)  Head of Mission and Force Commander, Major General Stefano Del Col, at Baabda Palace in Beirut on Tuesday, Aoun said the Israeli claims were refuted after caretaker Foreign Minister Gebran Bassil led a tour of foreign diplomats and journalists to the alleged missile sites earlier this month.
He added that Israel's refusal to define borders between the occupied territories and Lebanese soil proves its intentions.
"Defining land and marine borders maintain border stability," the Lebanese president noted.
Aoun went on to say that Israeli military aircraft continuously violate the Lebanese airspace to pound targets inside Syria.
Del Col, for his part, said he has been discussing with the United Nations Secretariat about the Israeli violations of Lebanon's sovereignty.
Addressing his supporters via a televised speech broadcast live from the Lebanese capital city of Beirut on October 12, Hezbollah Secretary General Sayyed Hassan Nasrallah scoffed at Israeli Prime Minister Benjamin Netanyahu's allegations of missile sites near Lebanon's only functioning civilian airport.
Nasrallah says Trump is using Iranophobic rhetoric in order to sell billions of dollars worth of US arms to Arab rulers of the Middle East.
He stressed that his movement's policy is to maintain vigilance and not to respond to such trumped-up charges.
"Denial of Israeli allegations would be a free favor to the Tel Aviv regime," Nasrallah said.
"Let's leave Netanyahu with his lies and delusions, to speak about what he wants and incite in the way he sees fit," Mohammad Fneish, a Hezbollah member and Lebanon's caretaker youth and sports minister, was quoted by Lebanon's English-language the Daily Star newspaper as saying on September 29.
Fneish affirmed that "the resistance has significant capabilities, as outlined by Nasrallah."
"We are those concerned with responding to Netanyahu's aggression and to any new attack on Lebanon," he said.
Lebanon's Hezbollah resistance movement has described the Israeli Prime Minister Benjamin Netanyahu as delusional after he attacked the movement in his recent address to the UN General Assembly.
The Hezbollah minister added, "The Israeli premier knows exactly what awaits him if he commits any aggression against Lebanon, and if he does not know, he will be surprised."
"Hezbollah will continue to lead the resistance, to defend the country, and to confront any aggression that could pose a threat to the Lebanese and to the sovereignty of Lebanon," Fneish said.
On September 27, Bassil said Israel was trying to create excuses to attack Lebanon.
"Here is Israel, again coming up with excuses to justify assault and preparing to violate the sovereignty of states using the platform of [the UN]," Bassil tweeted.
"It forgot that Lebanon drove [Israel] out, defeated its aggression and is oblivious that its arrogance and new friendships won't benefit it again," he added.