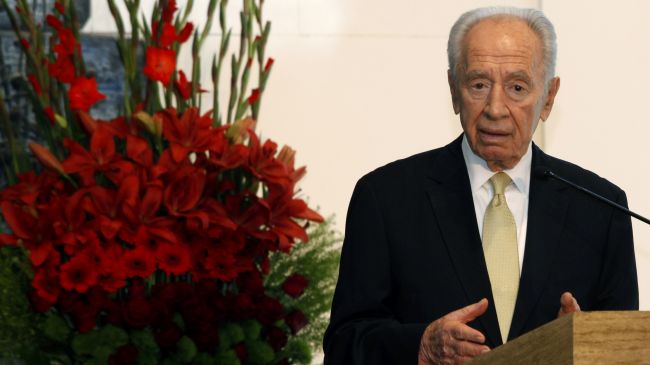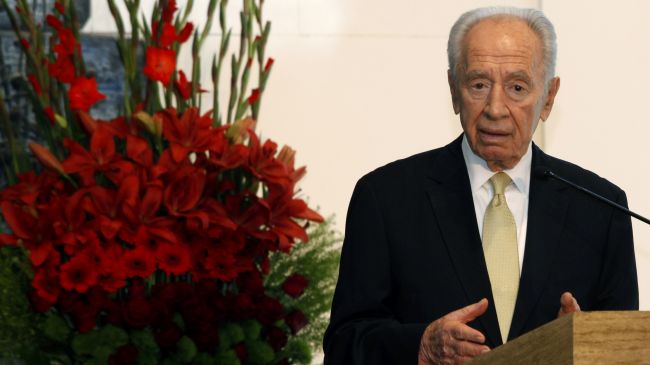 Israeli President Shimon Peres has pursued his calls for peace talks with Hamas despite political uproar from Israeli politicians over his pro-Abbas words.
In an address to Israel's Christian leaders on Monday, Peres called for peace process with the Palestinians, withstanding widespread criticism he faced on Sunday after saying that Acting Palestinian Authority chief Mahmoud Abbas was a leader with whom Israel can reach a peace agreement.
"People ask about Hamas, why aren't we talking with Hamas? There is nothing wrong with that as long as we get an answer from them," Peres told the Christian leaders ahead of the New Year.
"We are willing to talk to Hamas, but they aren't," he added.
"I believe the Israelis, like the Arabs, will want to see an end to the conflict. This is not just a desire. It must be achieved, and we have to work to achieve it," Peres also said.
On Sunday, the President stirred a political debate among Israeli politicians after he called Abbas a "partner for peace," saying "There is a clear majority for the principle of two-states for two peoples."
Prime Minister Benjamin Netanyahu's Likud party criticized Peres's remarks in a statement, saying, "It is very saddening that the president chose to express a personal political opinion" that is against the Israeli public's stance on Abbas.
Environment Protection Minister Gilad Erdan, a member of Likud party, said it was unfortunate that Peres "chose to present a political stance that encourages the condemnation of Israel by the international community."
Meanwhile, Hatuna party chairwoman Tzipi Livni backed Peres's remarks, saying "President Peres acted responsibly in telling the public the truth about Israel's status."
Livni added that the truth was that Israel "is already isolated," and with no diplomatic progress it only becomes more isolated."
New polls, carried out in December and commissioned by the S. Daniel Abraham Center for Middle East Peace in Washington DC, reveal that most supporters of Israel's Likud-Beiteinu party and Habayit Hayehudi party would favor a peace agreement aimed at the formation of a Palestinian state based on the 1967 borders, Israel's retention of major settlement blocs and a division of al-Quds (Jerusalem).
The remarks came after Israel eased the blockade of Gaza over the weekend, allowing in thousands of tons of building materials through the Rafah border, for the first time since Israel imposed a blockade on the Palestinian territory more than five years ago.
The move was the fruit of Egyptian-mediated ceasefire between Israel and Hamas that ended the eight-day Israeli war on the Gaza Strip.
Over 160 Palestinians, including women and children, were killed and about 1,200 others were injured in the Israeli attacks on Gaza that were carried out during the eight-day period of November 14-21.
Palestinian resistance fighters incessantly poured rockets and missiles onto Israeli cities, killing at least five Israelis, including one soldier, in retaliation for the deadly aerial assaults on Gaza.