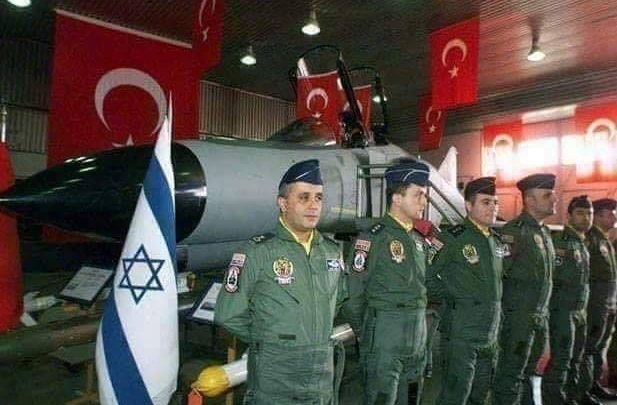 Israeli Air Force Has Been Training in Turkey since 1996
Israeli jets have arrived in Turkey to begin training flights there under the terms of a military exchange accord signed in February by the two countries.
Israeli pilots had already begun training flights in Turkish air space, diplomatic sources said.
The sources said eight Israeli F-16 training jets and their crews arrived this week in Turkey, adding that the planes were unarmed and lacked any surveillance equipment.
Israel wanted its pilots to be able to train in Turkey, whose air space is less limited than the Jewish state's, according to the sources.
In return, Israel said it would upgrade some 50 Turkish F-4 bombers under the terms of the pact.
Syria, Egypt and Iran have criticized the accord, describing it as a threat to regional stability.
Source: From The Archive of JTA
Turkey-Israeli Military Ties part is take from the article titles "The Remarkable Turkish-Israeli Tie" by Amikam Nachmani Middle East Quarterly , pp. 19-29
MILITARY TIES
Israeli-Turkish military cooperation touches upon many domains: air, sea, land (both infantry and armor), intelligence, and the manufacturing of aircraft, armaments, and missiles. It is close, institutionalized, and structured, involving steering committees, regular meetings, and strategic dialogues. It includes a hierarchy of deliberations that reaches up to defence ministers and even higher. Cooperation involves financial dealings in the hundreds of millions of dollars, if not more.
Training. A February 1996 agreement—concluded for a five-year term and subsequently to be extended annually—prepares the way for mutual military visits, training and exercises, dispatch of observers to oversee military exercises, staff exchanges, and acquisition of military know-how. It also prepares for the two air forces and navies to hold mutual visits and joint exercises. Concomitantly, the agreement stresses that when the soldiers of either signatory are on the territory of the other, they will not be involved in conflicts between the host state and any third party.31
The training exercises of the two air forces are held eight times annually, a week each time, four deployments in each country. The exercises in Turkey (without participation of Turkish planes, without armament and without electronic surveillance equipment) are held at the Konya firing range. Overland exercises are a novelty for the Israeli pilots; Israel's diminutive size means that its air force generally trains over the Mediterranean Sea. Turkish pilots train at Israel's computerized firing range and at the Nevatim airfield. Agreement was recently reached between the two air forces on joint exercises.32 The two navies also hold maritime exercises, including naval maneuvers in the summer of 1996 and Operation Reliant Mermaid, a naval rescue exercise of early January 1998 that also included U.S. forces.
Armaments. In August 1996, the munitions industries in the two countries concluded an agreement. The media report Israeli-Turkish collaboration in manufacture of Popeye surface-to-air missiles; sales of Israeli Python 4 air-to-air missiles to Turkey; Turkish manufacture of the Galil infantry rifle; formulation of defensive doctrines against ballistic missiles; eventual Turkish participation in production of Israel's Arrow anti-missile; and joint manufacture of the jet-propelled, 400-km.-range Delilah cruise missile. It was also reported that the Turks voiced great interest in intelligence and other data transmitted by the Ofek satellite Israel recently fired into space.33
An Israeli firm has contracted to modernize Turkish planes (fifty-four F-4 Phantoms and forty-eight F-5s) at a cost, with interest, of $900 million,34 based on some creative financing.35 Turkish planes are to undergo structural improvements and be fitted with radar systems, computerized aeronautical systems, navigation systems, electronic warfare systems and armament to improve the planes' performance in bombing missions.36 In the upgrading of F-4s, the first plane will be returned to Turkey thirty-three months after its arrival in Israel and the process is to be completed by 2006-08.37
The offer to sell Israel's Merkava Mark-3 tank and to modernize Turkey's Pattons (M60A3) marks the two countries' growing interaction in relation to ground forces. Turkey's tank units comprise 4,000 Patton tanks, and Israeli upgrading proposals include fitting the Patton with a 120 mm. Merkava cannon, endowing the aging tank with new artillery capabilities both in range and in penetrative power. The upgrading project also includes more effective armoring on the tank; more precision of its "tankonics" by installing advanced fire-control and command systems; day- and night-vision systems; and a 900-horsepower engine.
But the tank deal has wider importance: growing collaboration between the two defense establishments means that Israel increasingly shares its military secrets with Turkey. This is obvious with the offer to sell Turkey the Merkava tank, for as part of the agreement, Israel has agreed to set up Merkava production lines in Turkey. Mutual trust generates mutual dependency, combining to create collaboration in the most sensitive and secretive
domains.38
Israel's position as the world's fifth arms producer fits with Turkish plans for arms procurement, modernization and refitting. Europe's largest army and NATO's second biggest has plans to spend a stunning $150 billion for arms over the next twenty-five years (of which $60 billion will go for the ground forces, $25 billion for the navy, and $65 billion for the air force). Of this, local production will cover a mere 21 percent of Turkey's needs. Approximately one third of Turkey's military budget is to be devoted to modernization and weapons upgrading (the defense allotment in 1996 reached $6 billion, or 3.6 percent of gross domestic product). Turkey is also considering manufacture of a helicopter suited to its needs and intends to produce 95 percent of its components. The sale of Israeli weapons systems to Turkey frequently includes Turkish manufacturers. The Tadiran Corporation produces systems for locating and rescuing pilots. These are manufactured in Israel and assembled in Turkey by a local munitions concern, Aselsan.39 Thus do Turkey's defense needs, Israel's arms production, and Israel's willingness to share with Turkey manufacturing units for joint production of weapons all combine to generate an expansive military cooperation.40
Although Israeli military sales to Turkey are best known, the flow is not one-way: Israel, for example, pays for the use of sophisticated Turkish installations. In addition, the Israeli navy trains at Turkish diving facilities, where it benefits from prices lower than the equivalent cost of such special training in Germany or Britain.41
Intelligence. Intelligence cooperation, another principal area of Israeli-Turkish relations, comprises the exchange of information, routine briefings, analysis of data (including that collected by Israeli satellites) and tripartite deliberations involving U.S. agencies. Turkey's location next to Syria, Iraq, and Iran—three states of special interest to Israel—plus Israel's border with Syria—a state of interest to Turkey—point to their mutual utility. The two governments watch for the development of weapons of mass destruction, for various forms of radicalism, for terrorism, for threats to energy sources, for developments in the Turkic republic, and for Iranian influence.
Miscellaneous. About ninety Turkish F-16 pilots have received training to prevent bird/plane collisions and learn Israeli safety regulations on this matter. The two air forces are considering a radar network to pinpoint and identify the migration routes of predatory birds in autumn and spring. Seven radar stations are to cover Turkish and Israeli airspace, providing updated information on bird migration along the Europe-Africa route. Turkey will give Israel a two-day warning of the autumn migration, while Israel will provide Turkey with a similar alert in advance of the spring migration.42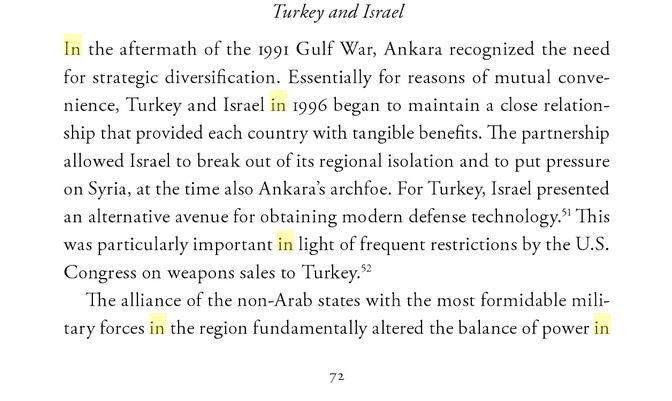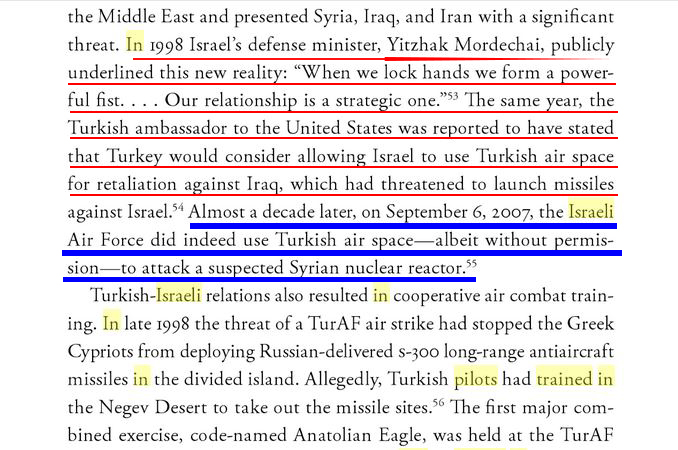 European Air Power: Challenges and Opportunities by John Andreas Olsen