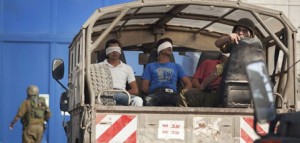 Israeli troops have detained a teenager and a woman after assaulting her in the Shu'fat refugee camp, in the occupied East Jerusalem al-Quds.
The youth was detained by hooded undercover forces, after clashes erupted between Israeli forces and young Palestinians inside the refugee camp on Saturday, Ma'an reported.
Earlier in the day, Israeli forces detained a Palestinian woman at the entrance of the Shu'fat refugee camp, after preventing her from passing through a checkpoint.
Residents said an argument ensued between the 42-year-old woman and Israeli forces who blocked her from entering. The Israeli forces assaulted her and took her into custody.
The police, however, refused to comment on the incidents.