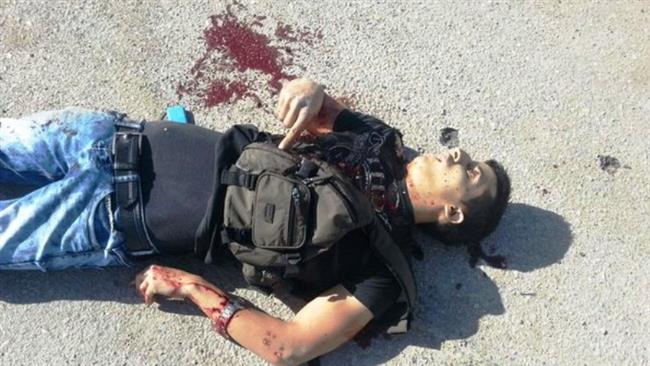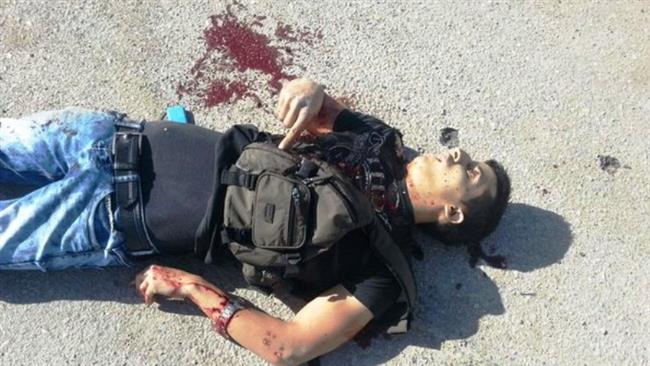 Inhuman Israeli forces have killed another young Palestinian man in the occupied West Bank as Tel Aviv's violence continues unabated.
Israeli authorities said on Wednesday that their forces shot dead the youth after he allegedly stabbed a female Israeli officer in the neck.
Israeli police spokeswoman, Luba Samri, said another Palestinian was arrested in the incident which happened near an Israeli settlement south of the city of Ramallah.
The killing was the latest in a series of Israeli shooting of Palestinians as part of the Tel Aviv regime's month-long crackdown on residents of the West Bank, East al-Quds (Jerusalem) and the blockaded Gaza Strip. Israel has tried to justify the killings by branding the slain Palestinians as "stabbers."
In another incident, a Palestinian ran over an Israeli soldier in the illegal settlement of Shilo, the al-Aqsa TV channel said. The report added that the young man escaped the scene while the Israeli officer was injured.
Further to the north of the occupied West Bank in the city of Nablus, Israeli forces shot a 15-year-old Palestinian girl who reportedly attacked a group of settlers in Yitzhar settlement south of the city. The teenager, identified as Istabraq Ahmad Noor, was shot and wounded in the incident, according to Israeli officials.
Other sources said Israeli forces opened fire on a gathering of Palestinian protesters east of Ramallah with the Palestinians throwing stones at them. No direct clashes were reported in the area.
Palestinians also attended a demonstration in the town of Bireh, north of Ramallah, with reports suggesting that clashes broke out between the two sides. Similar protests were also reported south of Bethlehem and also in al-Khalil.
The Palestinian Health Ministry has updated its fatality figure of the Israeli attacks, saying 51 Palestinians, including 12 children, have been killed and hundreds injured since the Tel Aviv regime began a harsh crackdown in early October on the Palestinians enraged by the settler violence and a plan by the Tel Aviv regime to change the status quo of the al-Aqsa Mosque.
In August, the Israeli regime imposed restrictions on the entry of Palestinian worshipers into the al-Aqsa Mosque.
International condemnations have poured in over the Israeli crackdown, with many warning that Tel Aviv's provocations could open the door to a new full-fledged Intifida, or uprising, against the regime.