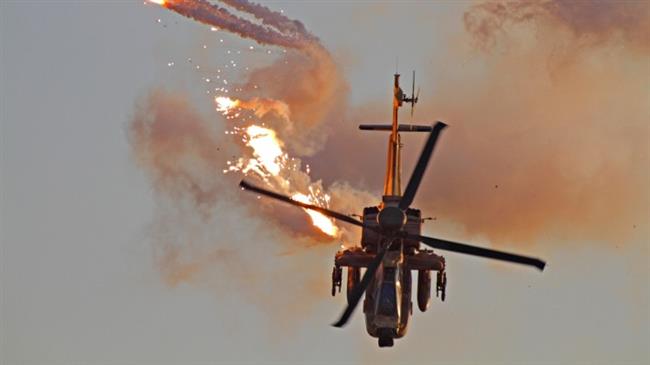 The Israeli military has carried out an airstrike against a residential area in Syria's southwestern province of Quneitra, in what would be the second such attack in less than a week.
Syria's official news agency SANA, citing local sources, reported that an Israeli helicopter targeted a house in Ain al-Tinah village, which lies west of Hader town, on Monday afternoon, wounding a civilian.
The report added that the injured Syrian was taken to Quneitra Hospital to receive medical treatment.
In the early hours of May 6, Israel carried out a helicopter attack on Syria's border province of Quneitra.
SANA reported at the time that the attack targeted a site close to the town of Jubata al-Khashab, located a few hundred meters from the occupied Golan Heights, adding that there were no human casualties or material damage.

The attack happened less than 24 hours after a similar missile targeted several areas in Syria's coastal western province of Latakia, in which a civilian was killed and 16 others injured, in addition to causing severe material damage.
Syria's Permanent Representative to the United Nations Bassam Sabbagh condemned the attacks, and said the Israeli regime's repeated assaults against his country's territory, sovereignty and independence threaten regional stability as well as international peace and security.
Sabbagh said the two Israeli assaults were in flagrant violation of the international law, the UN Charter, Security Council Resolution 350 (1974) and the 1974 Disengagement of Forces Agreement between Israel and Syria.