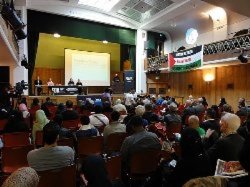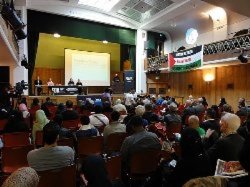 A commemoration has been held in London for the victims of the Gaza Freedom Flotilla one year after the Israeli slaughter of lots of activists and injury of dozens of others in international waters.
Those attending the first anniversary of the massacre on Tuesday evening included many of the 37 British survivors who participated in the international, multi-faith convoy.
Chair of Friends of Al Aqsa, Ismail Patel, who sent a video message from Mavi Marmara, the lead ship, hours before Israeli commandos illegally boarded the boats, was among those who recounted their ordeal.
Other speakers included Sarah Colborne, director of campaigns for Palestine Solidarity Campaign, Daniel Macover of Lawyers for Palestinian Human Rights, Kate Hudson of CND, writer Ben White, TV presenter Rizwan Hussain, Chris Nineham of Stop the War Coalition and Mohammad Kozbar from British Muslim Initiative.
Jews for Justice for Palestine, which later organised a Jewish attempt to break Israel's four year siege of Gaza, was represented by Diana Nielson, with Junaid Ahmed of the Islamic Forum of Europe and Nabil Ahmed of the Federation of Students' Islamic Societies were also in attendance.
The flotilla consisted of six boats carrying humanitarian aid organized by a coalition of NGOs from 37 countries. All those killed by Israeli troops were Turkish on board the Mavi Marmara.
The commemoration comes as a second Gaza Freedom Flotilla of ships from Ireland, Greece, Spain, Italy, France, Canada, the United States, Germany/Switzerland, Sweden and the Netherlands is due to set sail later this month.