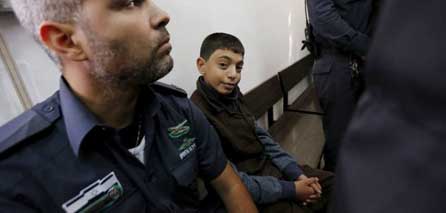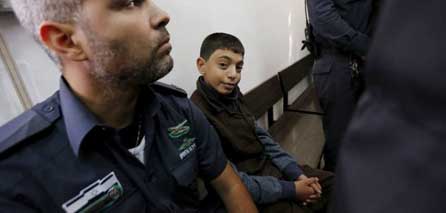 An Israeli court on Sunday sentenced a 15-year-old Palestinian child for six years and a half in jail and a fine of 26,000 shekels on allegations of carrying out an anti-occupation stabbing.
The Israeli court issued the sentence against Mu'awya Alkam, 15, on charges that he attempted to stab an Israeli security guard.
A court hearing is expected to be held on July 17 to validate the sentence. Both Mu'awya and Ali Alkam were kidnapped by the Israeli occupation forces after they were shot by an Israeli light rail guard in Occupied Jerusalem.
Ali was hit with three bullets and sustained critical wounds following the shooting.
According to Abdullah Alkam, the chairman of the popular campaign to release Palestinian children in Israeli jails, Mu'awya is being held in the Megiddo lock-up while Ali is incarcerated at a closed school in Beit Naquba.
Both children have reportedly been subjected to harsh psycho-physical torture and strip-beating in Israeli detention.
The occupation authorities have been frequently delaying court hearings for the two minors until they reach the legal age for trials, the activist added.