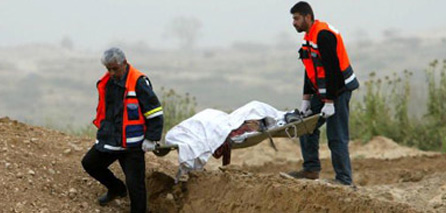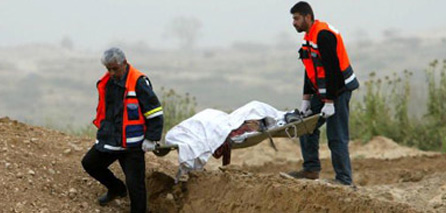 Palestinian medical crews evacuated on Thursday morning two Palestinian martyrs killed at Wednesday night by Israeli occupation forces stationed at eastern Jabalia refugee camp, north of Gaza city at border.
Palestinian sources said that the two martyrs were evacuated to Kamal Udwan hospital, north of Gaza city, while names of martyrs are still unknown till the moment.
Israeli occupation forces escalating the situation in Gaza to wage a new bloody war against Palestinian civilians in Gaza.
Israeli occupation waged a bloody war against Gaza civilians in 2008-2009 caused of killing more than 1400 Palestinians most were women children and elders.
Spokesman of Al Qassam Brigades Abu Obeida warned Israeli occupation forces in his last news conference from committing any folly against Gaza people, meanwhile he said that we seek to avoid our people any Israeli war, but If Israeli occupation insists on escalating the situation in Gaza towards a war, our response will be very strong and shocking.