Palestine
Israeli policy of assassinations cannot terrorize Palestinians to accept Trump's deal: Nakhala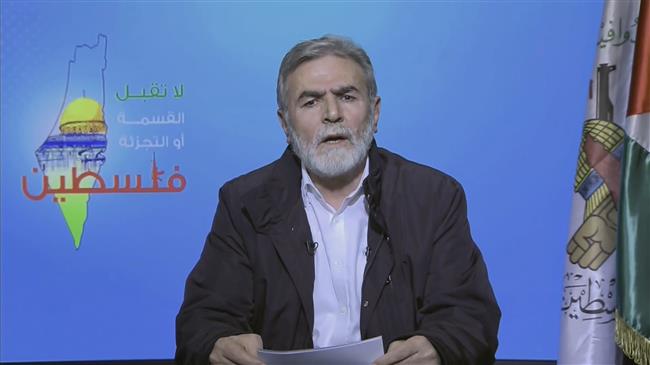 The secretary-general of the Palestinian Islamic Jihad resistance movement says the Tel Aviv regime's plan to return to "the policy of assassinations" against distinguished figures of Palestinian resistance groups in the Gaza Strip cannot terrorize Palestinians to acknowledge US President Donald Trump's so-called deal of the century on the decades-old Israeli-Palestinian conflict.
"The policy of assassinations will not make the Palestinian people give up their rights, nor will it manage to break up the resistance front. We will respond to any assassination in time, and any act of aggression against our people in the Gaza Strip will be met with resistance that the occupation [Israel] has not experienced before," Ziad al-Nakhalasaid in a televised speech broadcast live from Gaza City on Wednesday afternoon.
Israel to reinstitute 'assassination policy' against Palestinian groups in Gaza: KatzThe Israeli foreign minister says the Tel Aviv regime would reinstitute
He added, "The threats of enemy leaders will not intimidate us, nor will make us accept what they have crafted and called the deal of the century. They will not make us relinquish our historical rights in Palestinian lands and al-Quds (Jerusalem)."
'Oslo Accords bore nothing for Palestinians other than humiliation'
Nakhala also censured the Oslo Accords signed between the Palestine Liberation Organization (PLO) and the Israeli regime more than two decades ago, stating that the set of agreements brought nothing for Palestinians other than humiliation, shame and delusions.
"We presented our history as well as our children, and sacrificed them on the altar of delusion of peace. We reaped nothing other than despair that was represented by the deal of the century," he pointed out.