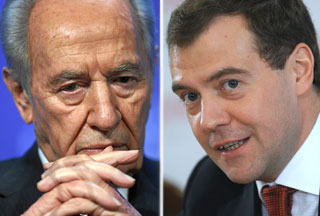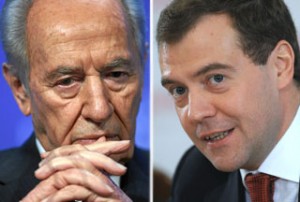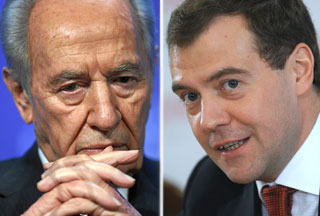 Israeli President Shimon Peres is to meet his Russian counterpart Dmitry Medvedev to discuss bilateral ties and the situation in the Middle East.
Peres will meet Medvedev in the Russian Black Sea resort city of Sochi on Tuesday to discuss the volatile situation in the Middle East.
The discussions will focus on Israeli-Palestinian peace negotiations and preparations for an international conference on the Mideast due to be held in Moscow by the end of 2009.
Israel's octogenarian president is visiting Russia for the first time since he assumed office in July 2007.
Russia's official news agency RIA Novosti said that the meeting between the two presidents will be informal. The two sides will also discuss the development of bilateral relations, including cooperation in advanced technology, and the prospects for adopting new agreements on investment protection.
Russia is a member of the Quartet on the Middle East, which is involved in mediating the peace process in the Israeli-Palestinian conflict. The United States, the United Nations, and the European Union are the other members of the Quartet.