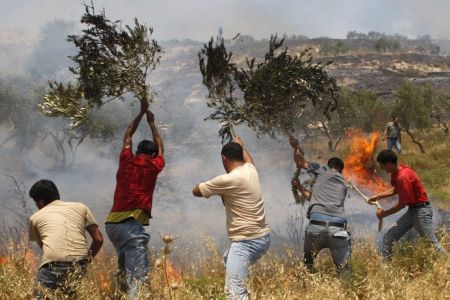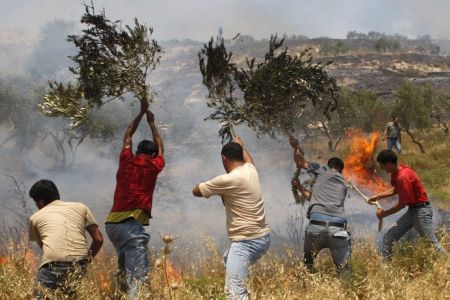 Israeli settlers have burned hundreds of Palestinian-owned olive trees near the West Bank city of Nablus as the Israeli Army watched on, witnesses say.
"When we saw the flames, we called the fire service but the soldiers wouldn't let them come any closer to prevent clashes with the settlers," a Palestinian farmer told AFP.
The settlers, who were reportedly from the settlement of Havat Gilad, had stolen the fruits of 800 trees belonging to Palestinian farmers last week.
"Every year they steal our olives and burn our trees," the farmer added.
The British-based aid agency Oxfam said in a report released on Friday that settler attacks on Palestinian olive farms were common and often increased during harvest time.
The aid agency reported that the olive sector olive sector, which contributes up to $100 million in yearly income for some of the poorest Palestinian communities, could bring a brighter future for the Palestinian economy, provided its full potential is realized.
Israel should remove obstacles to Palestinian production of olives in the occupied West Bank, which is "stifling" the true potential of the sector, the agency said.