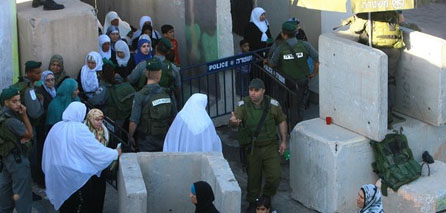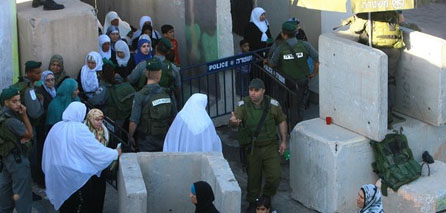 The Israeli occupation forces (IOF) intensified their presence in the early morning hours on Friday in occupied Jerusalem turning it into military posts in an attempt to prevent the Palestinian crowds, especially the young men, from entering the Aqsa Mosque to perform Friday prayers.
Eyewitness said the IOF troops were intensively deployed all over the holy city, especially at the entrances to the Old City and in the vicinity of the Aqsa Mosque and its gates, adding that they erected barriers in all alleys of the Old City and at the Mosque's gates and searched the worshipers.
The IOF troops only allowed the men aging 50 and above, the women over 40 and holders of special permits to have access to the Aqsa Mosque.
For its part, the Aqsa foundation for endowment and heritage affirmed that about 180,000 Palestinian worshipers performed their Friday prayers in the Aqsa Mosque in defiance of the Israeli military measures and restrictions.
In a statement, the Aqsa foundation said this estimated number of worshipers was concluded from information provided by reporters and cameramen of news agencies who covered the events of Friday prayers.
It noted that most of the worshipers were from Jerusalem and the 1948 occupied lands, and a few of them were from the West Bank.
Al-Bayareq foundation had afforded more than 170 buses to transport worshipers from all Palestinian cities of the 1948 occupied lands to the Aqsa Mosque, while the Aqsa foundation distributed more than 4,000 meals inside the Mosque.
In another incident, more than 17,000 Palestinians from Al-Khalil city performed their Friday prayers in the Ibrahimi Mosque, and the Mosques of Ahel Al-Sunnah and Al-Qazazin in the Old City.
Eyewitness said that Al-Khalil people flocked into the Ibrahimi Mosque after being prevented from reaching the Aqsa Mosque, adding that thousands of Israeli soldiers were deployed around the Mosque in anticipation of clashes on the anniversary of the Israeli massacre committed inside this Mosque.
The Palestinians are always electronically and manually searched many times by Israeli troops before they are allowed into the Ibrahimi Mosque.