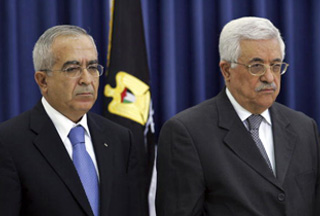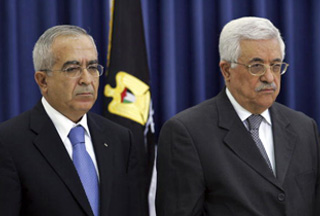 Acting Palestinian Authority chief Mahmoud Abbas and Prime Minister Salam Fayyad are to be protected by Israel's Shin Bet security service on some of their trips around the West Bank.
According to a report published by the Haaretz daily, a team from the Shin Bet's VIP security unit accompanies Abbas and Fayyad whenever they are in the Israeli-controlled West Bank.
Israeli army sources told Haaretz that the security procedures for guarding Abbas and Fayyad on their trips through the West Bank stem from Israel's desire to avoid having armed Palestinian guards open fire in the Israeli-controlled Area C should their charges come under attack.
The same procedures are in effect when foreign dignitaries visit the West Bank. The Shin Bet guards them in Area C, and the Palestinian Authority takes over in the areas under full Palestinian control.
The security measure is aimed at preventing possible murder attempts on Abbas and Fayyad by right-wing Israeli extremists.