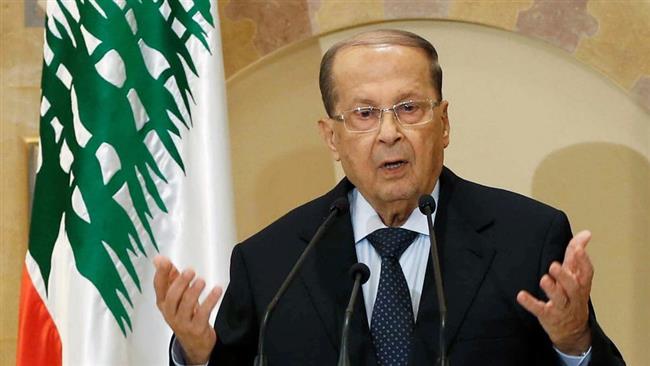 Lebanese President Michel Aoun has dismissed the Tel Aviv regime's recent threats of military strikes against the Arab country, stressing that any Israeli attempt to violate Lebanon's sovereignty would be met with an "appropriate response."
"Any attempt to hurt Lebanese sovereignty or expose the Lebanese to danger will find the appropriate response," Aoun said in a statement released by his office on Saturday.
According to the statement, Aoun was reacting to recent remarks in a letter by Israel's envoy to the United Nations, Danny Danon, which amounted to a "masked attempt to threaten security and stability" in southern Lebanon. The statement did not elaborate what Danon's remarks were.
Last week, Aoun said Hezbollah must arm itself to complement the Lebanese army's ability to deal with Israel's threats. Danon sent a letter to UN Secretary General Antonio Guterres and to the Security Council in response.
The Saturday statement said that the Lebanese president also called on the international community to be aware of Israel's aggressive intentions against his country.
Israel is still refusing to implement United Nations Security Council Resolution 1701, which is aimed at transition from cessation of hostilities to ceasefire stage by stage, irrespective of the fact that more than 11 years have passed since its adoption, Aoun pointed out.
The Lebanese leader went on to say that the Israeli military still occupies the northern part of Ghajar village, Sheba'a Farms, Kfarchouba village, and violates the Blue Line — border demarcation between Lebanon and the occupied territories — and Lebanese sovereignty by air and sea on a daily basis.
Aoun stressed that the era was over when Israel was exercising its policy of aggression against Lebanon unchecked.
Meanwhile, Hezbollah Secretary General Sayyed Hassan Nasrallah on Thursday warned Tel Aviv against starting another war on Lebanon, calling for the removal of the regime's Dimona nuclear reactor, which, he said, would be within the resistance movement's reach in case of a potential Israeli offensive.
"I call upon Israel not only to evacuate the Ammonia tank from Haifa, but also to dismantle Dimona nuclear facility," Nasrallah said.
He warned that Israel would be "surprised by what we are hiding which would change the course of any war."