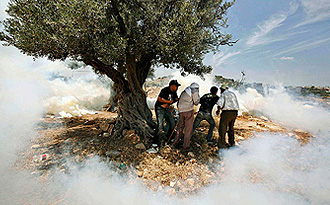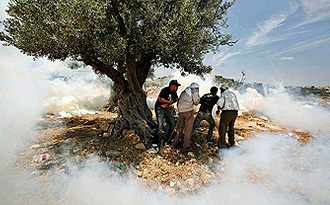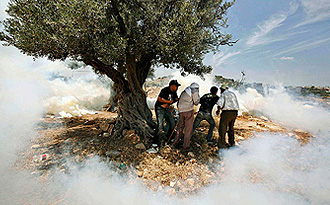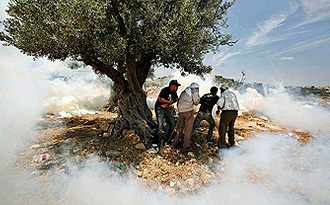 Israeli security forces have clashed with a group of demonstrators demanding an end to illegal Jewish settlement activities in the occupied Palestinian territories.
An elderly man was wounded in the neck when the Israeli soldiers scuffled with anti-settlement demonstrators that included Palestinians, Israelis and foreigners near the West Bank village of Beit Ummar on Saturday, Reuters reported.
The Israeli soldiers fired teargas grenades from close range on the demonstrators in order to disperse them.
Palestinian residents of Beit Ummar and other villages in the area say their farmlands have become inaccessible due to Israeli illegal settlements.
Palestinians also complained that their lands were annexed to a "security zone" surrounding a nearby settlement.
Israel's insistence to resume its West Bank settlement construction projects — deemed by the international community as illegal — prompted Palestinian Authority negotiators to walk out of a new round of US-sponsored direct talks.
Palestinians have repeatedly voiced concern about Israel's efforts to wipe out the Islamic and Palestinian identity of the occupied territories, East al-Quds in particular, to effectively render the establishment of a future Palestinian state unfeasible.
Meanwhile, Israel's Central Bureau of Statistics reports that illegal settlement construction in the occupied West bank has climbed sharply in the past five months.
The data, released by the bureau on Saturday, indicates that the Israeli regime started over 114 settlement units during the 10-month construction freeze Tel Aviv announced in November 2009.