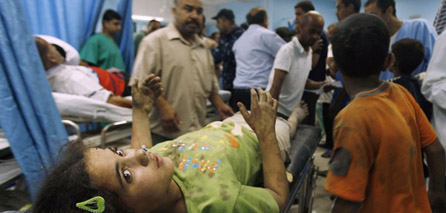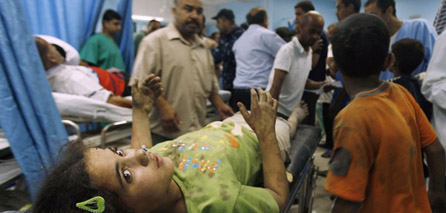 Israeli occupation air forces attack house in Deir al- Balah refugee camp, Central Gaza Strip, where 40 civilians were seriously wounded and massive destruction left in the targeted area.
The Israeli raid targeted most populated area in central Gaza early Monday causing a huge explosion.
Witnesses said that Israeli warplanes were hovering over the area where the huge explosion took place.
After targeting Qassam commander Essa al-Batran early Friday 31st of August, caused of killing him, Israeli occupation officials seem to have situation escalated.
The air attack took place in Deir –Al Balah refugee camp, targeted the house of the Palestinian resident Alaa Al-Danaf on Monday is a clear sign for escalating the situation in Gaza by Israel.
Eventually, the military wing of Hamas movement vows revenge sooner or later, and determined on continuing resistance till the liberation of Palestinian prisoners and whole Palestine.
Israeli occupation is fully responsible for the recent escalation and its coming impacts and consequences.
Al Qassam Brigades have the full right to target anywhere in Israel, as long Israeli occupation targeting Gaza Strip and Palestinian resistance leaders.
No doubt, targeting civilians is a violation for the international law, that Israeli occupation forces never respected now and long time ago.
As a result, Palestinian resistance factions have the legal and full right for defending its people from any Israeli attacks.
In 2008-2009, Israeli occupation waged a savage war on Gaza, caused of death of more than 1400 Palestinians most of them were women, children, and elders.
Where hundreds were injured due to Israeli destructive machine, in addition to massive destruction and devastation.
Israeli occupation still refusing the humanitarian supplies from entering into Gaza Strip, what causing of real humanitarian crisis.