Syria
Israelis Concerned about Syrian Army Progress in Qusayr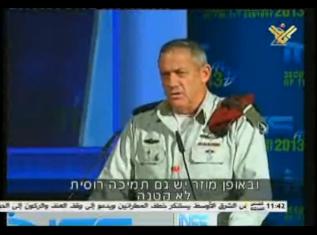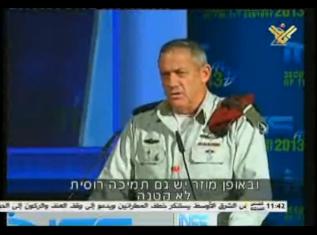 The Zionist entity seems in rush to directly intervene in Syria and strike the Iranian nuclear facilities, recent statement of Zionist military and intelligence officials showed.
Zionist Chief of Staff Beni Gantz
The new achievements of the Syrian army reflected concerns among Zionist officials and accelerated the pace of incitement against Syria, Iran and the Lebanese Resistance of Hezbollah.
The conference of the Institute for National Security Studies (INNS) in Tel Aviv on Monday has turned to be an occasion for sending letters that reflected the deep Zionist concerns about developments in Syria after the latest achievements carried out by the Syrian regular army against the militant groups.
Head of research department in military intelligence, General Itai Brun, expressed fears of the international community silence towards what's going on in Syria, stressing that Syrian regular army used the chemical weapons several times.
Zionist analysts believed that the purpose behind those statements is to push the United States towards a military adventure against the regime in Syria.
"This is a fundamental intelligence debate; however, it holds political sense in the same time," Odad Granot, Arab affairs analyst at the Zionist channel said.
"This is because if it appears that Bashar al-Assad has used chemical weapons, the US will be ought to intervene, which will represent a Zionist attempt to push Washington towards military intervention in Syria," he elaborated.
The Zionist concerns were also expressed during the INSS conference, when chief of Staff, Beni Gantz, talked about the great threat coming from Syria and Iran, criticizing the Russian position supporting Assad in Damascus.
On the other hand, former intelligence chief in the Zionist entity, Amos Yadlin, warned that Iran has surpassed the red line in its nuclear program.
"Iran and Hezbollah are experts in trying to maintain this axis and the Assad regime. What wondering most is the great Russian support for Assad regime," Gantz said.
"We should know that there is no problem for Iranians to retransform the nuclear fuel of the research facility within one week into nuclear materials to build the bomb. For this they have surpassed the red line put for them," Yadlin stated.
For his part, former chief of foreign and security committee, Tsahy Hangbi, noted that the countdown has started for Israel to offer the military option as the only option against Iran.
Syria was hit by a violent unrest starting from March 2011, with the main Western and Arab countries offering military and finance support for the armed opposition groups.