Iran
Middle East
Israelis lit candles outside Zionist Barak house to protest potential war on Iran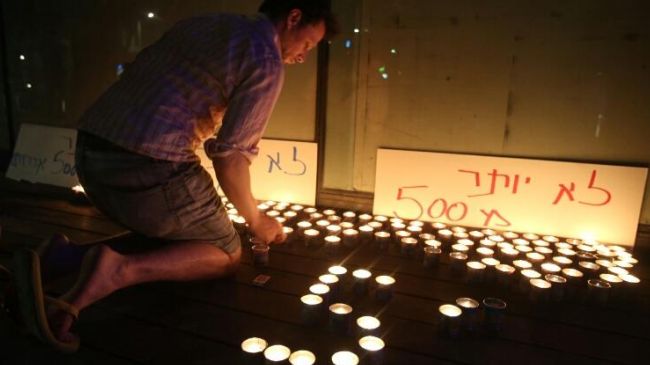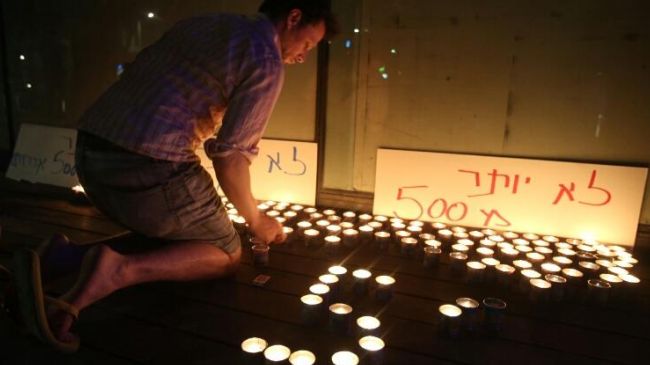 Israelis light candles outside the house of Israeli Minister for Military Affairs Ehud Barak to protest a potential strike against Iran, as they have every night during the past three weeks.

The protesters gathered outside Barak's home in Tel Aviv on Sunday and lit 500 candles to mark the number of lives that will be lost if Israel goes into war with Iran, as was estimated by Barak himself.
"We've been demonstrating in front of the home of minister of war, Ehud Barak, and we will continue to demand… to stop the madness," Ynetnews quoted Naomi Saroussi as saying.
Barak claimed in 2011 that if Israel attacks Iran, "there will not be 100,000 casualties, and not 50,000 casualties, not 5,000 casualties and not even 500."
"They are toying with human lives… One thing is certain – if we attack Iran, we will be led to war. We can't drag Israel into war," another protester Yifat Solel said.
"It's inconceivable how badly those in office who are advocating an attack [against Iran] can disregard human lives – mine, yours, all of ours," Solel added.
On Sunday, Israel's former Supreme Court judge Eliyahu Winograd also lashed out at Prime Minister Benjamin Netanyahu and Ehud Barak for their assessment of Israeli casualties in case of a war on Iran, asking "No more than 500 killed? How do you know? Did you already count?"
Iranian authorities have dismissed the repeated Israeli threats of military action against the Islamic Republic, warning that in case Israel makes the mistake of launching such an attack, it will spell the end of the Israeli regime.
A number of senior Iranian military commanders have also emphasized that in case of any attack on Iran, the conflict is certain to expand well beyond the region.