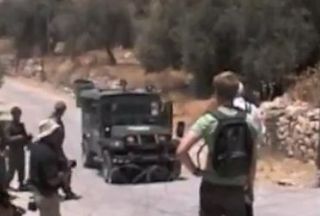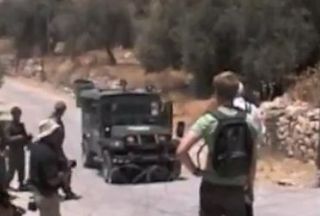 A Palestinian man was injured when Israeli soldiers opened fire on protesters during a weekly non-violent demonstration against the apartheid wall in the village of Bil'in in the central West Bank.
After Friday prayers, dozens of Palestinian demonstrators, along with left-wing Israeli activists, protested against the al-Quds (Jerusalem) municipality's plan to demolish 22 Palestinian homes to make way for an archaeological park in the al-Bustan area of East al-Quds.
They marched toward the apartheid wall that separates Palestinian villagers from their occupied lands and called for a complete halt to Israeli policies targeting the Palestinians of East al-Quds and a freeze on the illegal settlement activity in the city and in the entire West Bank.
As soon as the protesters reached the gate of the apartheid wall, the Israeli soldiers fired rubber-coated-steel bullets and tear gas at them. A bullet hit a 50-year-old university teacher in his hand.
Dozens of people also suffered from the effect of tear gas inhalation.