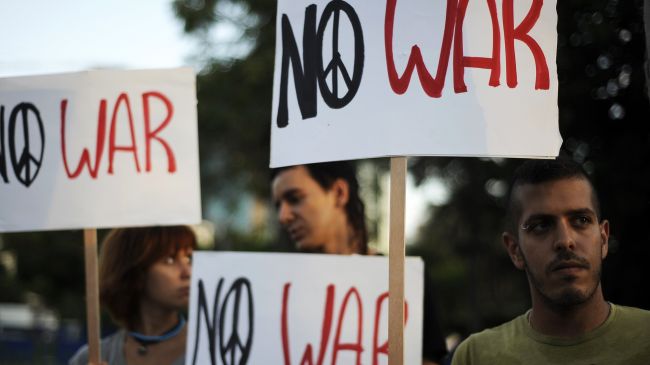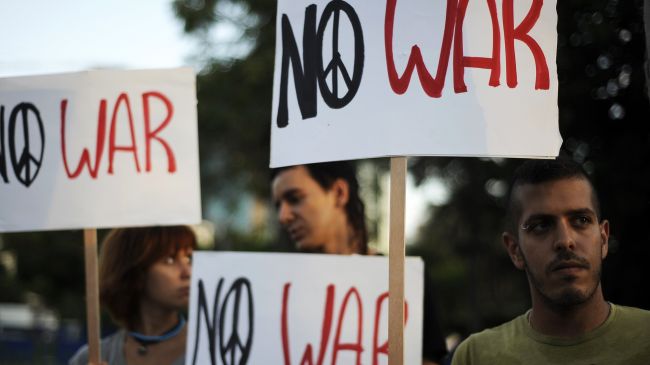 Hundreds of Israelis have taken to the streets in Zionist Tel Aviv to protest against a potential military strike by the Zionist Israeli regime on Iran.
In separate demonstrations across Tel Aviv on Thursday evening, the protesters chanted slogans such as 'No to war' and carried signs, condemning the Israeli authorities for social inequality and the government's austerity measures, The Jerusalem Post reported.
The protesters also demonstrated outside the headquarters of the Ministry for Military Affairs to warn about the consequences of a military attack against Iran.
"We are protesting against [Israeli Minister for Military Affairs Ehud] Barak and [Prime Minister Benjamin] Netanyahu's apparent plan to launch a war that would endanger the entire region…They are trying to divert attention from the budget cuts and the high unemployment rate," said a demonstrator.
"We are determined and sense that we are having an effect…[our] movement will carry on until an attack on Iran is no longer an option," said one of the demonstrators, who had gathered in front of Barak's residence.
On August 9, Barak told Israeli radio "…all the options are on the table [regarding Iran]. When we say it, we mean it."
Former Israeli Home Front Defense Minister Matan Vilnai also claimed on August 12 that the Tel Aviv regime is prepared for a '30-day war' with Iran.
Israeli media outlets have also turned the floodlights on Tel Aviv's threats of war against Tehran and reported that a related decision could be made within weeks.
Many current and former Israeli military officials have voiced opposition to Tel Aviv adventurism targeting Iran.
The United States and Israel have repeatedly threatened Iran with a military strike to force it to halt its civilian nuclear energy program, which they claim is a cover for a program aiming to acquire a military nuclear capability.
Iran has dismissed the allegations and the threats and pledged to deliver a crushing response to any attack on its territory, warning that any such measure could result in a war that would spread beyond the Middle East.