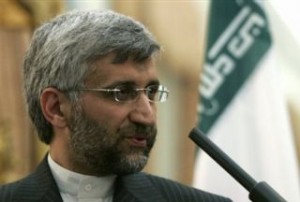 Secretary of Iran's Supreme National Security Council Saeed Jalili has rapped an Israeli attack on the Gaza aid convoy saying the assault is a sign of Israel's weakness.
The Iranian official made the remark during a telephone conversation with Qatari Prime Minister and Foreign Minister Sheikh Hamad bin Jassem bin Jabr al-Thani on Monday night.
"Israel's deadly attack on the Gaza-bound aid Flotilla reveals the terrorist nature of the Zionist regime," IRNA quoted Jalili as also saying.
The recent Israeli commando raid killed at least 20 people on board the aid convoy and left about 50 others injured.
Jalili further stressed that Israel must pay the price for the aggression and said, "lifting blockade on the Gaza Strip is the least they can pay."
Al-Thani, for his part, urged regional countries to take measures against Israeli aggressions.
"Countries in the region must take measures beyond issuing statements," al-Thani said.
The Qatari minister also pointed out that he would meet Iranian officials in Tehran to discuss some practical measures in an attempt to end the Gaza Strip blockade.
The Gaza Flotilla, comprised of nine ships, was carrying humanitarian aid for the impoverished people of the war-ravaged coastal strip which remains under a three-year Israeli blockade.